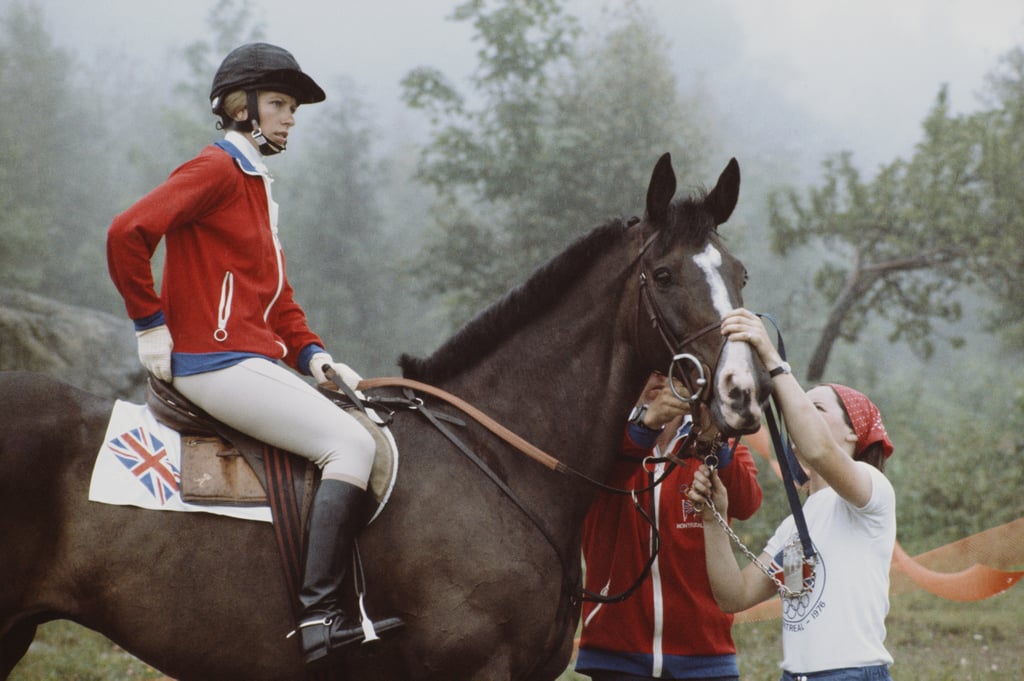 Yep, Princess Anne Really Was the First Royal Olympian — See the Pics For Proof

The Crown tends to keep Princess Anne in the background, but the fourth season does bring up one of her most incredible accomplishments: she's an Olympian! Anne was a top-tier equestrian during the 1970s, competing in international competitions as part of Britain's national eventing team. At first, according to Channel 4, Anne was aiming at the 1972 Olympics. Coming off a win at the European Championships the previous year, the princess was one of the top contenders during the Olympic qualifiers, but ended up falling just short. That year, however, Captain Mark Phillips, her future first husband, did make the Olympic team and was part of the three-day eventing team that won gold.
Four years later, it was Anne's turn. She qualified for the 1976 Olympics, held in Montreal, and participated in multiple events with the eventing team. Unfortunately, the team didn't win a medal in the three-day team event, and Anne finished 24th (in a field of 49 competitors) in the individual eventing competition.
As it turns out, though, Anne's equestrianism is a family trait! Her daughter, Zara Phillips, took up the sport that brought her parents together and got them both to the Olympics, and she met with even more success. Zara qualified as part of the eventing team for the 2012 Olympics — the same equestrian event that her parents had competed in back in the '70s. Although she finished off the podium (in eighth place) in the individual event, Zara and her teammates won the silver medal in the team event.
Two things really made Zara's medal even sweeter. First, the 2012 Olympics were a home tournament for British athletes, being held in London. Even more special, though, was the person giving out the equestrian medals. Anne, who had continued being involved with the British sporting world, was scheduled to hand out the medals, which meant that the world got to watch the very sweet moment where she put the medal around her own daughter's neck!
Keep reading for a few throwback pictures of Anne's own Olympic days — plus that sweet mother-daughter moment from 2012!
Source: Read Full Article