It looks like reality TV got between "Real Housewives of Beverly Hills" star Dorit Kemsley and her former costar Lisa Vanderpump. Although the ladies were friends prior to sharing the small screen together, fans remember their falling out when Lisa left the cast while filming Season 9. 
At the time, Dorit had adopted a dog for Lisa's Vanderpump Dogs rescue foundation before re-homing the pooch and later making headlines, per Us Weekly. After Kyle Richards accused Lisa of selling the story to the press, the women have been at odds ever since and it doesn't look like they plan to make amends anytime soon.
"I [left the show] because I was very, very, very unhappy and I didn't appreciate being called a liar," the restaurateur told Us Weekly on their "Getting Real with the Housewives" podcast in March 2021. "To accuse me of selling a story, when you never get stories come out of my restaurants, you know, so it was such an insult to me. It was about my heart, it was about the Vanderpump Dog Foundation, which was something that was born out of complete compassion and my passion project. I just thought, 'I'm done with it.'"
As for Dorit, she told the outlet she felt "betrayed" by Lisa when their relationship went south in 2019, stating, "Things have a way of twisting and turning." But although some time has passed since the incident, it looks like their wounds are still sore. Keep scrolling for more details.
Lisa isn't over her beef with Dorit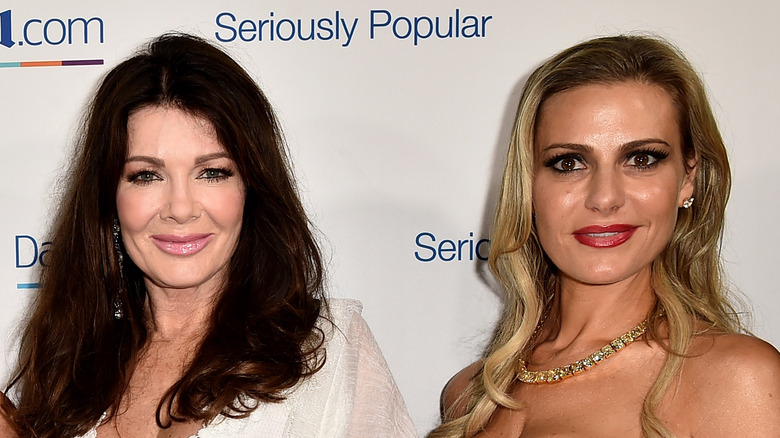 Although it's been a minute since Lisa Vanderpump and Dorit Kemsley's puppy debacle, it looks like there are still some hard feelings between them.
While speaking on Teddi Mellencamp's "Teddi Tea Pod" podcast, the Beverly Beach owner claimed Lisa had ignored her at a Los Angeles restaurant, stating, "We did not say a word to one another. [Lisa] knew I was there. I knew she was there," on the June 7 episode. "We never made eye contact, we never went up to one another."
Following Dorit's remarks, Lisa took to Twitter to throw some shade at her former pal, plus she made a dig at her claim on the June 9 episode of the "RHOBH" that she's never had a nose job.
"Ignore her? I just didn't recognize her lol," Lisa wrote in a now-deleted tweet on June 13 with a screenshot of a Google search reading, "Dorit Kemsley before after," per Us Weekly. In the snippet, fans can see a curly-haired Dorit in her '90s yearbook photo beside a recent picture of the now-blonde bombshell.
However, Dorit said Lisa's side-eye was to be expected. "She's made her position very, very clear …  she's really not interested in a friendship," she added on Teddi's podcast. "I would have loved for us to have been able to find a way to rekindle a friendship or to move past any animosity. I would have done that with Lisa. But it's not what she wants." 
Source: Read Full Article