Prince Harry and Meghan Markle filmed their interview with Oprah Winfrey in early 2020, and the special would air on CBS on March 7. At the time, Harry's grandfather, Prince Philip, had been in the hospital, according to USA Today. There was concern around the 99-year-old's health as he had been hospitalized for nearly one month. He was first admitted to King Edward VII due to an infection in February, but was transferred to St. Bartholomew's where he underwent a heart procedure. Many were very concerned about Philip's health around this time, and questions about whether or not Harry and Meghan would postpone the airing of their Oprah interview were plentiful. 
"Anything could hijack this interview. Philip is ill. He is 99 and could die at any time. They were not to know he would get ill, but it could be seen to be the wrong time. But I doubt it is in their gift to postpone the interview. The control is in the hands of CBS and Oprah," royal expert Penny Junor told the Daily Beast in early March. "I think it would be a marvelous turnaround for Harry's image if he took the brave step of canceling the whole thing this weekend—or, if that's not practical, postponing it at least," Robert Lacey, another royal expert, told the outlet. 
Ultimately, the interview was not postponed. But, did Harry and Meghan even consider it? Keep reading to find out.
Prince Harry and Meghan Markle took Prince Philip's health into consideration, royal authors claim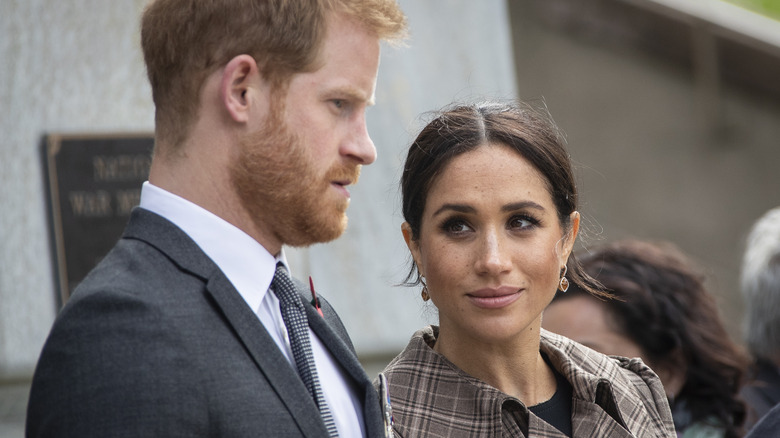 In an updated version of the book "Finding Freedom," authors Omid Scobie and Carolyn Durand revealed that Prince Harry and Meghan Markle did indeed consider postponing their interview with Oprah Winfrey due to Prince Philip's health. "After the news of his [Philip's] health came out, there were conversations with Harpo Productions about ensuring that the broadcast would be postponed if things were to worsen," a source told the authors, according to Newsweek. Ultimately, Harry and Meghan decided not to postpone the interview — things with Philip didn't worsen, and he was discharged from the hospital about a week after the interview aired, according to USA Today. 
However, Philip died on April 9, a little over a month after the interview rocked the royal family with a claim that the royal family had not helped Meghan during a serious mental health struggle, and another that accused a member of The Firm of being racist, according to BBC News. Harry would face his family on the day of Philip's funeral, but things were not ironed out; the rift between Harry and his family is believed to be ongoing.
Source: Read Full Article