Sooooo, in case you haven't heard (you have), the cast of the new Gossip Girl is on the cover of our May/June 2021 issue. Since no one knows the cast of Gossip Girl like the cast of Gossip Girl—srsly, they've basically been quarantined together throughout production—we turned over some of the question-asking to them. Think of it as sneaking into their group chat. Gossip Girl would be so proud. XOXO!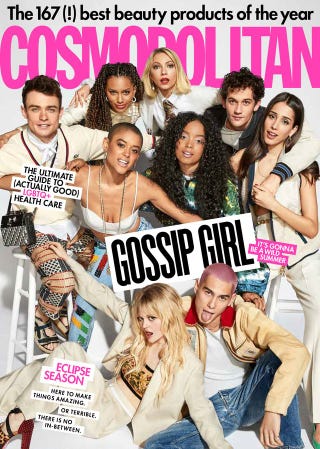 TAVI: Me first! If you could play any character from the OG, who would it be? I'll go first: Georgina! Love a shit stirrer.
WHITNEY: Lily—she's got steez, but it's subtle.
EMILY: Dorota, period.
ZIÓN: She should have been Gossip Girl.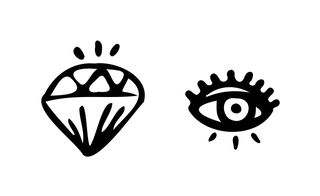 EMILY: Okay, who takes the longest in hair and makeup?
SAVANNAH: My babygirl Zión. Why? Bc she always looks GAWGEOUS.
ZIÓN: Thomas. Is there really a need for explanation?
WHITNEY: He's got lots of tats.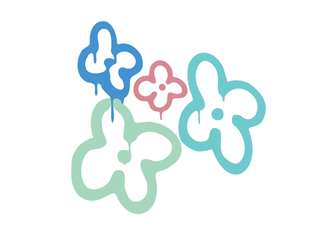 SAVANNAH: Who do you think is most similar to their character IRL? I'd say Whit because both Whit and Zoya are unapologetically themselves and have a great sense of style.
THOMAS: Evan—sweet and gentle and likes to skateboard.
JORDAN: Tommy, because he has quick wit and dark humor.
EVAN: When we're on-set filming, it doesn't even look like Thomas is in costume.
EMILY: Aki was literally written for Evan.
ZIÓN: No one. And everyone. Me? I'm quite ridiculous like Luna.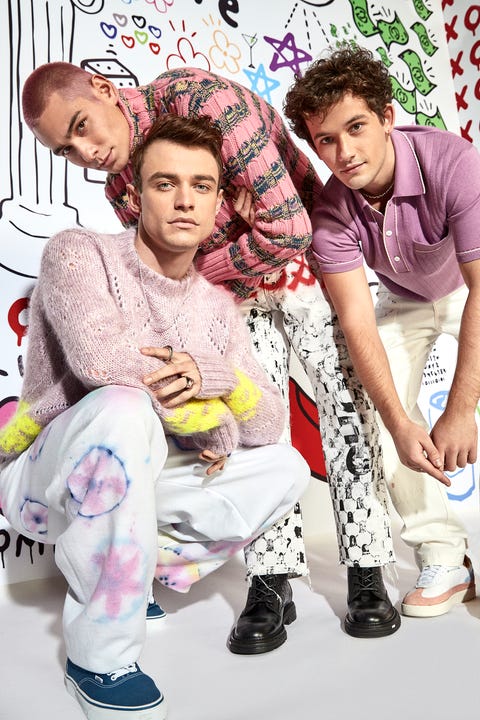 ZIÓN: If you had to be stuck on a desert island with a fellow Upper East Sider, who would it be?
THOMAS: Probably Evan. If food was scarce, I reckon I could use him for bait or food.
JORDAN: Dorota, because she would take care of me and she knows how to cook.
ELI: Or the chef from Constance Billard's cafeteria. Gotta eat.
WHITNEY: Georgina. She'd keep things interesting and probably know people who know people who could get us outta there.
SAVANNAH: Jordan—she's a very positive person and when I get frustrated (after, probably, five minutes), I bet she'd calm me down.
ZIÓN: For me? Ummm, Kate Keller, for sure. She inspires me. I feel most akin with her. I like her. But do I? Agh! She's an enigma! Not to be confused with enema.
TAVI: A multiheaded creature that represents all my fellow Upper East Siders equally.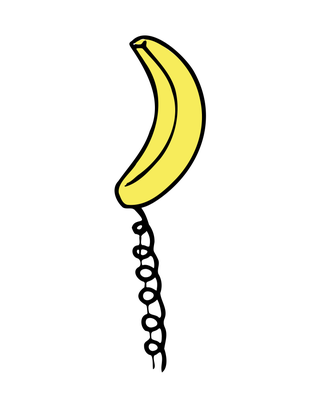 ZIÓN: Wait, one more—where were you when you found out you'd be part of the show? I was eating Flamin' Hot Cheetos in bed.
THOMAS: New Mexico, your home state, Zion, in a hotel room.
TAVI: I was at an Italian restaurant in the West Village with my sister.
JORDAN: I was in my best friend's apartment in their bathroom trying to have a quiet place to take the call. Never forget!
EVAN: On the beach in Hawaii.
SAVANNAH: I was in upstate New York—like the actual middle of the woods, so the first call didn't come through. Then I got a text and threw my phone across the room.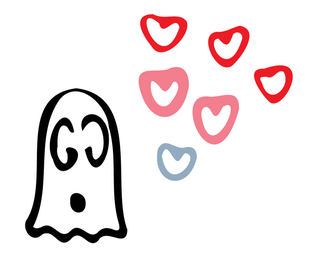 JORDAN: Who's the most likely to ghost at a party but also buy everyone pizza?
ELI: Emily has actually done this, so…
EVAN: I can't believe this is a real question.
JORDAN: One night, we're all hanging out and she disappeared and then pizzas showed up. Best way to leave a party: the Emily goodbye.
SAVANNAH: Remember when her "dishwasher mysteriously broke"?
EMILY: When someone is sick, hurt, or needs food, I'm your man.
EVAN: Favorite place in New York? Mine is the Bowery Hotel, because the chicken fingers hit different in the later hours of the night.
TAVI: The Roosevelt Island Tramway. Quaint, fast, the cheapest view, available day and night.
ELI: My apartment.
JORDAN: The roof of my building where I can see the Manhattan skyline. I like to go up there and think.
SAVANNAH: Joe's Pizza for obvious reasons.
ZIÓN: The subway.
WHITNEY: Triple Decker Diner. Dinner for two for 20 bucks? In New York? Count me in.

WHITNEY: Who's the biggest party animal—and/or the most likely to be late for work?
THOMAS: I think we all love a wee party when we're together. We all just have different levels of discipline, ha.
TAVI: I am the smallest party animal but perhaps most likely to be late.
EVAN: Me, because I don't only act, I also have a million other things going at the same time. The cast makes fun of me for being on my phone so much, but I werrrrk, okaaaay.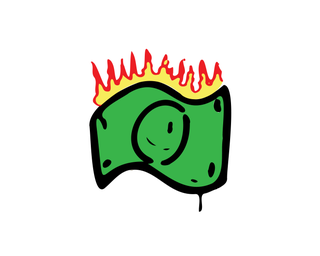 ELI: Best on-set memory?
THOMAS: The first day shooting on the Met steps was pretty cool.
JORDAN: We all got to be together and it was so magical. The sun was shining; the weather was beautiful.
EMILY: It was pretty wild—that was the first time it really hit that it was all happening. After half a year of COVID-19 and not knowing whether we would even end up getting to make Gossip Girl, we sat on the steps, and it all felt real for the first time. I remember looking around at our cast of total weirdos and thought, Oh shit, this is gonna be my new family.
EVAN: Consistently getting the scars on my ass airbrushed to match my skin tone.
ZIÓN: That time I fell. I fell, right? I must've. I'm always falling.
SAVANNAH: My favorite so far has been when Jordan, ZZ, and I were exiting our scene and Jordan fell into her giant gown offscreen and did it SILENTLY. It was hilarious, but we couldn't laugh until we heard "cut."
WHITNEY: I've already said too much.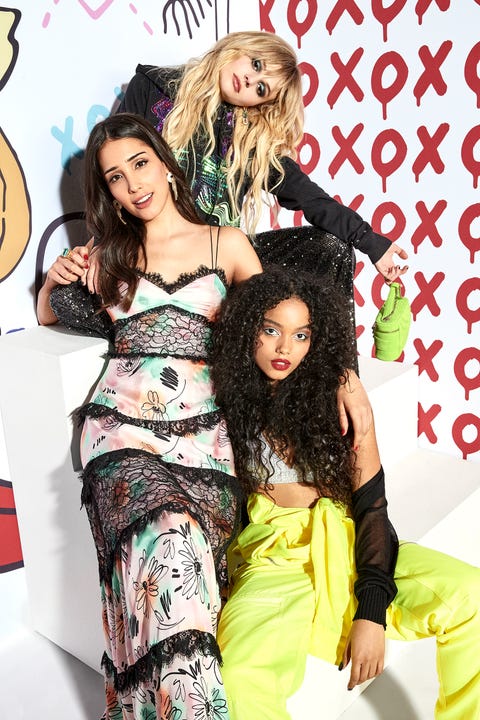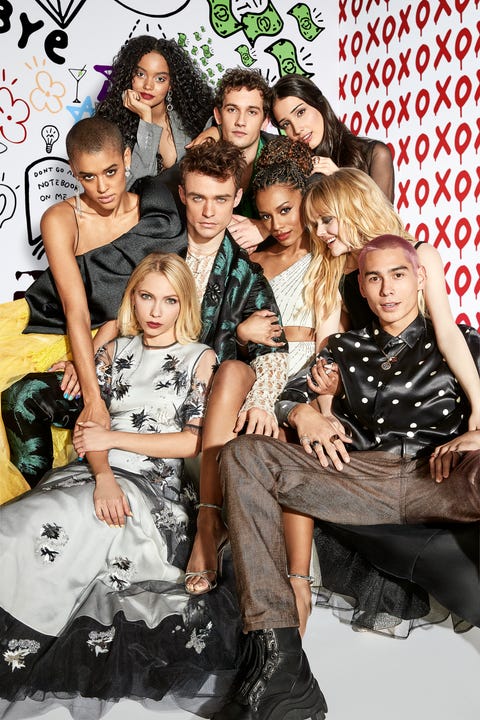 THOMAS: How far into the movie do you get on a "Netflix and chill" night?
ELI: I set my timer for 20 minutes.
EMILY: If someone asks you to "Netflix and chill," their name is probably Brad, they live in a frat, don't have a fitted sheet.
THOMAS: Didn't read the room. I watch HBO Max…
WHITNEY: What is "Netflix and chill"?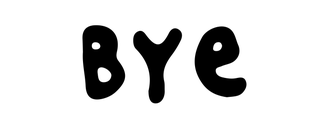 Psst. Want to know even more gossip on, well, Gossip Girl? Come sit with us and we'll tell ya ev-er-y-thing.
Source: Read Full Article