One of Italy's classic dishes, Spaghetti Carbonara was one of Food Network star Tyler Florence's first favorites as a chef, as he noted in his cookbook, Tyler's Ultimate: Brilliant Simple Food to Make Any Time. Here's why he considers it a "breakfast spaghetti," and see if you don't agree.
Florence's Spaghetti Carbonara calls this recipe 'breakfast spaghetti'
As the Great Food Truck Race host wrote in his cookbook, he and Spaghetti Carbonara go way back.
"Spaghetti Carbonara was one of the first authentic pasta dishes I mastered as a young line cook working in an Italian restaurant," he wrote, and it's never lost its charm."
The dish is a classic for a reason, featuring, he added, "smoky bacon and silky egg sauce" wrapped "around chewy strands of spaghetti; with lots of fresh cracked black pepper, it's so simple and delicious. In a silly way, it's like breakfast spaghetti."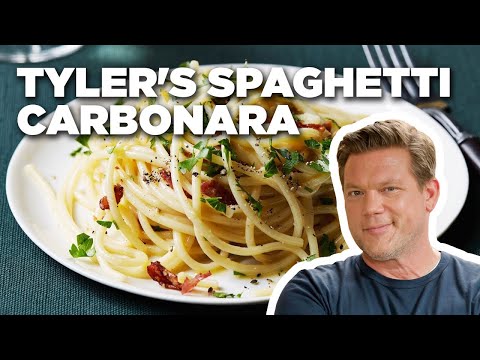 Tyler Florence credits the dish with getting him through college
As Florence noted in his cookbook, "Another great thing about this dish is that eggs and bacon are inexpensive: If it weren't for spaghetti carbonara, I think I would have starved to death at college."
With simple, easy-to-find ingredients of salt, oil, bacon, onion, eggs, cream, Parmesan cheese, spaghetti, and pepper, this recipe really is perfect for anyone needing a quick meal that doesn't require fancy items.
As chef Lidia Bastianich writes of the beloved dish on her website, "This recipe is definitely a crowd-pleaser and it has some of the flavors loved most by Americans: bacon, eggs, cheese, and of course pasta."
And it's as simple to make as its ingredients list: eight slices of bacon, "cut crosswise into thin strips," and a chopped onion are cooked in olive oil. "While that's going," Florence writes, "crack the eggs into a big serving bowl."
Add the six tablespoons of heavy cream and one quarter-cup of Parmesan cheese to a big bowl and whisk, followed by the bacon mixture. Toss in the hot spaghetti once it's done cooking.
Florence advises placing an inverted plate "on top of the bowl to hold in the heat and let the pasta set for five minutes." After that time, add salt, "lots" of black pepper and chopped parsley, and "boom: You've got spaghetti carbonara!"
Find the complete recipe, video, and reviews on Food Network's site.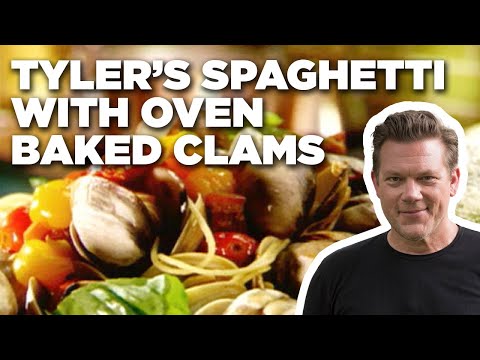 Reviewers gobbled up Florence's spaghetti recipe, with over 500 five-star reviews on Food Network's site
It's easy to see why this recipe is such a fan favorite on the culinary channel's site. It's a beauty of a comfort dish and easy to make, as reviewers noted.
"Absolutely outstanding!!! … It came out perfect. Better than the one at Cheesecake Factory!!! I'll make it again and again. Thanks, Tyler!," one home cook wrote.
Another reviewer said, "I never review recipes but this one is so simple and is a huge hit with my husband. It's become an easy (and delicious) staple dinner in our house."
And as the chef noted, it could become a popular breakfast dish one of these days!
Source: Read Full Article