This has been a huge year for "Friends." The sitcom might have wrapped in 2004 after ten seasons, but the fanbase has remained as devoted as ever. This is the show Netflix kept on their platform in 2019 for a whopping $80 million, per Vulture, after all! Well, fans hungry for more content from the Jennifer Aniston, Lisa Kudrow, and Matthew Perry-starring vehicle finally caught a break when a special reunion episode aired on HBO, with all of the original cast plus a bunch of guest stars, on May 27.
One of the key ingredients that makes "Friends" such a success even years after its last episode is the mythos that surrounds the cast. In case the name of the show wasn't enough of a hint, its premise is that a bunch of 20 somethings are, well, friends. So, it only added to the chemistry between the characters that the actors were just as close off-screen as they were on. Over the years, fans have delighted in public sightings (or social media posts). So it should come as no surprise then that people went absolutely nuts when Courteney Cox shared a July 4th selfie with her "Friends" co-stars this year. 
Read on to see the amazing post!
Couretney Cox knows how to party with "Friends"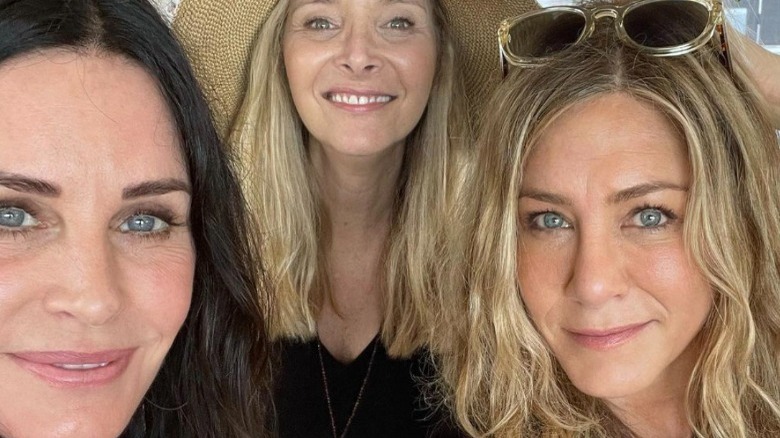 Okay, we love this. Courteney Cox spent the July 4th holiday like the rest of us — enjoying the long weekend with her friends. The only difference is that for Cox, her friends happen to be … "Friends"! And very cool celebrities. So fans could barely contain themselves when Cox posted an Instagram of herself, Lisa Kudrow, and Jennifer Aniston with the caption "Happy 4th! Xoxo."
Cox's post was instantly flooded with comments from fans and celebrities alike. "Happy 4th!" Michelle Pfieffer commented. "Happy 4th, love," wrote Tan France. Natasha Bedingfield also chimed in with a, "Wow," and second comment; "Love you guys." Clearly, Bedingfield felt just one comment had left something "Unwritten!" The post quickly racked up well over 2 million likes and of this writing, it's nearing 3 million. 
Cox's July 4th bash seemed pretty lit in general, considering that Aniston and Kudrow weren't even the only celebrities in attendance. The post also included a photo of Cox and Laura Dern. Before you start suffering from too much FOMO, relax, because you're not the only one missing out. Case in point — comedian David Spade commented on the post, making light of his absence from the party (and the photoshoot), writing in jest, "Cropped again!"
Source: Read Full Article