In the years since the "Friends" series finale, the long-running sitcom has remained very popular on both sides of the pond. While "Friends" nostalgia has reappeared in everything from pop-up cafes to merchandise and t-shirts with popular character sayings, fans also can't get enough of the show's reruns both in the US and the UK. According to USA Today, "Friends" was the UK's most popular streaming show in 2018 while Deadline reported that "Friends: The Reunion" broke Sky One's ratings records.
And while two-part episode "The One With Ross's Wedding" was certainly a very memorable one — you know, when Ross (David Schwimmer) made the epic mistake of saying Rachel's (Jennifer Aniston) name during his wedding to Emily (Helen Baxendale) — there was one cameo by a member of the British Royal Family that you might have missed, especially if you closed your eyes and blinked. Keep reading below to find out who it was!
Ross and Emily's wedding had a special royal guest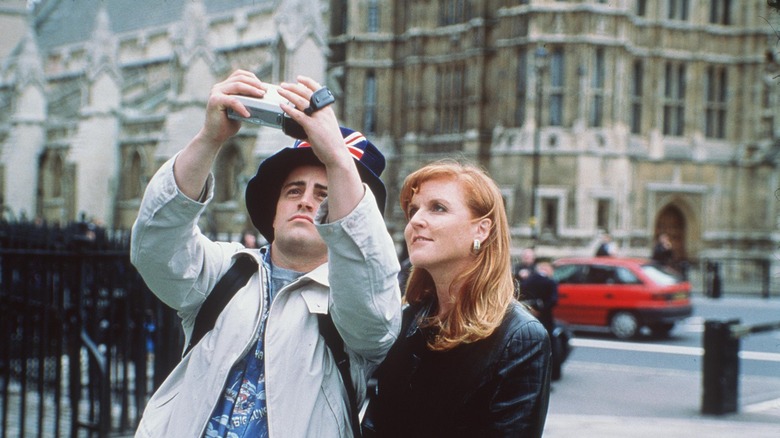 In "The One With Ross's Wedding" part one and two, the entire gang — with the exception of Phoebe who was pregnant at the time (as was the real-life Lisa Kudrow) — headed to London for Ross and Emily's wedding. But before all of the festivities, both Joey (Matt LeBlanc) and Chandler (Matthew Perry) went sightseeing around London. While recording everything on his camcorder (as iPhones didn't make their debut until a decade later), little did Joey know that the red-headed woman he bumped into happened to be a member of the royal family. Chandler was quite impressed with his roommate's celebrity sighting but Joey didn't seem to think much of it, as he got homesick quickly after a phone call with Phoebe during the episode.
"Friends" fanatics are sure to remember that it was Sarah, Duchess of York that made the cameo. According to Kelsey Miller's Book, "I'll Be There For You: The One About Friends," the Duchess of York was convinced by her daughters, Princess Eugenie and Princess Beatrice, to appear on the show. She even had a line (via Refinery29) that said, "Hi Chandler, Joey says you don't really like his hat, but I think it's kind of dashing." Miller wrote in her book that Sarah's appearance had actually helped her at the time, as her popularity in the UK was at a low point, as "Fergie-bashing had become a national pastime."
The Duchess of York's memorable appearance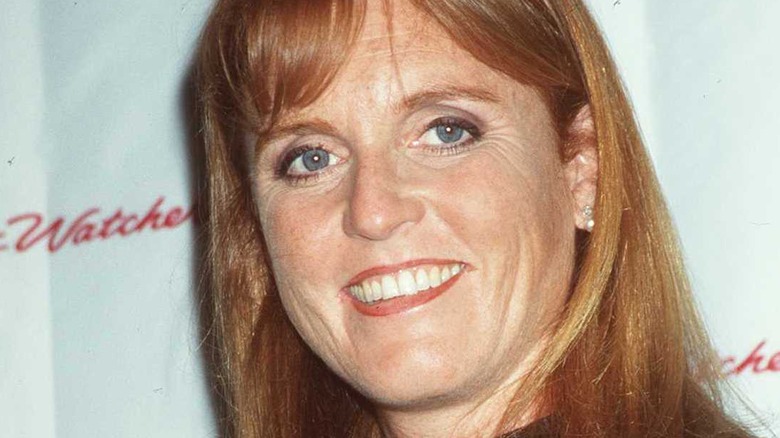 At the time of the "Friends" episode, there was a rumor suggesting Queen Elizabeth II stopped the "Friends" cast and crew from filming in front of Buckingham Palace because she was upset with Sarah Ferguson. However, Express reports that it has little to do with Fergie — there is actually a ban on filming in front of the queen's residence for entertainment (rather than informational) purposes. And while there was also some speculation that Her Majesty was none too pleased with Fergie's cameo on "Friends," this wasn't the only time that a member of the royal family was in front of a camera or on the set of a movie or television show. 
Many royals have rubbed elbows with Hollywood's elite, including the time the queen stood side by side with James Bond during the 2012 London Olympics or when Prince William and Prince Harry made an (ultimately cut) cameo in "Star Wars: The Last Jedi," per Bustle. Their cousin Princess Beatrice even made a brief appearance in "The Young Victoria," which was also produced by her mother, Fergie, as detailed by Reuters.
Now, whether or not Matt LeBlanc still has that hat no one knows, but it's nice to know that there was at least one member of the British Royal Family at the time that was game for anything.
Source: Read Full Article