You likely woke up this morning thinking, surely this day will be free of JoJo Siwa and Candace Cameron Bure drama. But no! Not so much! Because Candace's daughter Natasha has weighed into things, and is NOT having JoJo's recent comment to Page Six about having a "rough experience" when Candace wouldn't take a photo with her at a Fuller House premiere several years back.
https://www.instagram.com/p/CgiTR3Nv5Iw/?utm_source=ig_embed&utm_campaign=loading
A post shared by Natasha Bure (@natashabure)
"Respectfully, someone saying no to taking a photo with you is not a 'rough experience,'" Natasha said on Instagram Stories, without mentioning JoJo by name. "This generation is so sensitive and has zero back bone. Grow up. There are bigger issues in the world than this."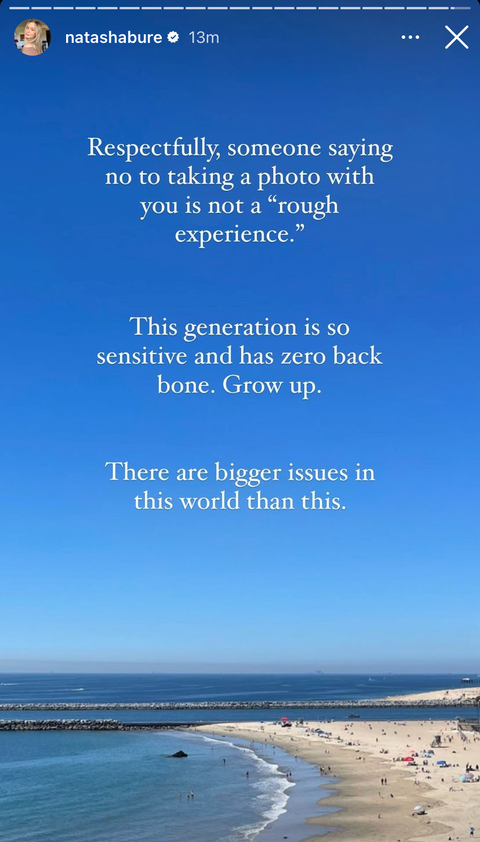 Her comments seem to be in direct response to JoJo saying "You know, I had a rough experience when I was little. I was 11, and I was a big, big fan, and I wanted to take a picture with her, and it wasn't a good time for her… I will say because I had a bad experience, that doesn't mean that she is an awful human. I think it just was an inconvenient time for her, and little 11-year-old me was just so pumped up and so excited, but that doesn't mean she's the worst human ever….It just, you know, it was a rough experience for me."
As anyone with an internet connection knows, this whole thing started when JoJo called Candace the "rudest" person she's ever met. You can watch JoJo's TikTok and Candace's lengthy Instagram response below, but word of warning: you WILL age 50 years.
A post shared by Candace Cameron Bure (@candacecbure)
Pool day = exposed hahahha
Source: Read Full Article