While former Vice President Mike Pence seemingly, purposely kept himself out of the limelight following his exit from the White House in January, it appears that he's finally stepping back out into the public eye. Despite the lukewarm reception Pence has reportedly received during major appearances, such as a conservative Christian summit held in Denver earlier in June, it looks like the ex-VP remains undeterred in this pursuit. Not only that, but Pence could feasibly be distancing himself from his one-time boss, former President Donald Trump, as his latest public address would suggest.
As CNN reported on June 25, Pence delivered his latest speech at the Ronald Reagan Presidential Library in Simi Valley, Calif., in which he remarked upon things that have become, in a way, the defining final moments of his tenure in office: namely, the Jan. 6 right-wing insurrection at Capitol Hill and Trump's continuous attempts to convince others that the November 2020 election was rigged — a claim that has been repeatedly debunked. 
So, what did Mike Pence have to say about it all? Keep on reading to find out. 
Mike Pence backed his actions while delivering a speech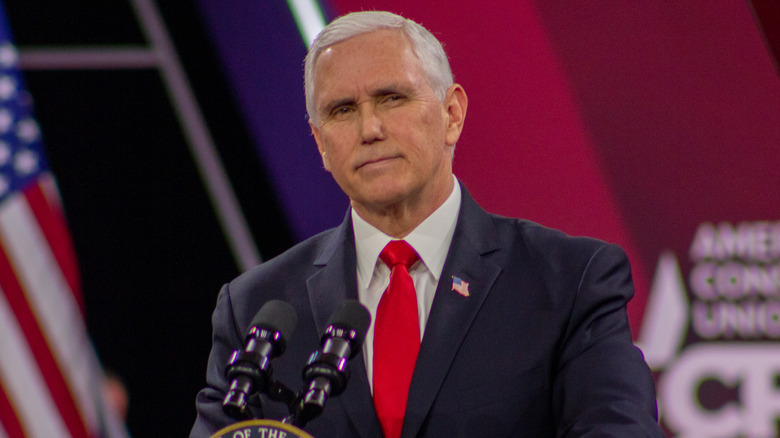 Per CNN, Mike Pence's most recent speech contained commentary in which he more or less directly addressed the events leading up to the insurrection at the Capitol Building on Jan. 6, in which Pence himself became a target of the right-wing mob of extremists for allowing the results of the November 2020 election to be ratified. "The Constitution affords the vice president no authority to reject or return electoral votes submitted to the Congress by the states," Pence stated, referring to the criticism Donald Trump lobbed only hours before numerous attendees of his rally, many of which went on to storm Capitol Hill, and some of whom sought out Pence to do him harm.
Pence also seemingly dismissed Trump's repeated and vastly unsubstantiated claims of election fraud during the 2020 presidential race, which resulted in current President Joe Biden's victory. "Now, I understand the disappointment many feel about the last election," Pence continued. "I can relate. I was on the ballot. But you know, there's more at stake than our party and our political fortunes in this moment. If we lose faith in the Constitution, we won't just lose elections — we'll lose our country." 
Though his comments seemed to indicate Pence's desire to share his take on the events after November 2020 (which are diametrically different from Trump's), he also made an effort to praise aspects of Trump's White House term, calling him "one of a kind." 
Source: Read Full Article