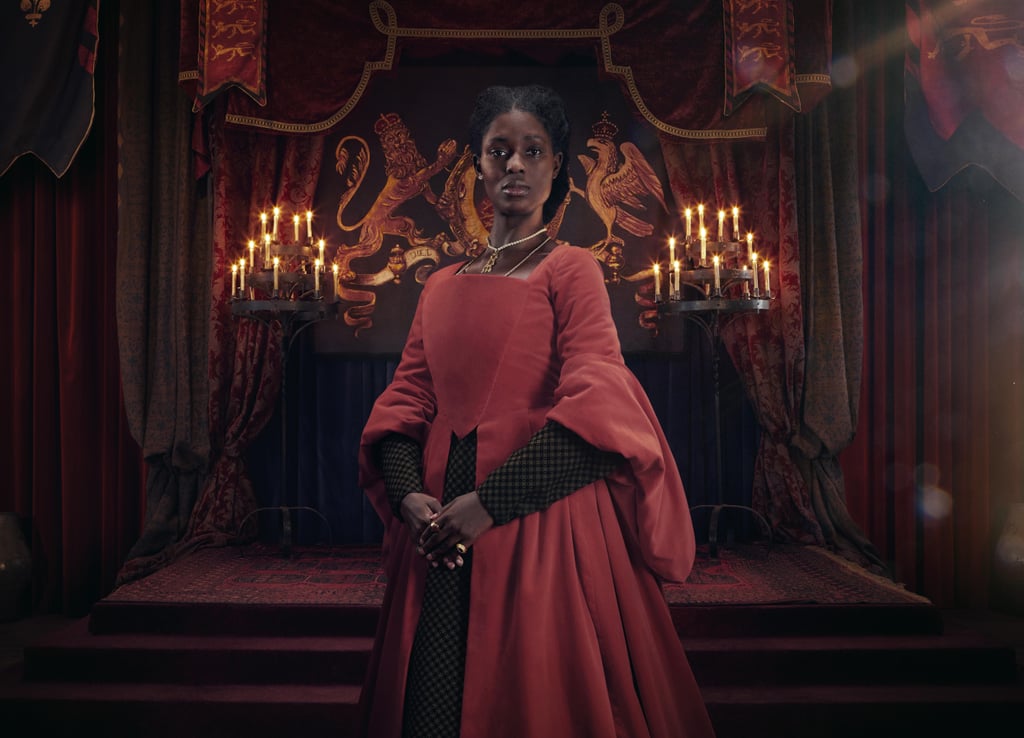 Jodie Turner-Smith Talks Playing "Mystery" Woman Anne Boleyn and "Suspend[ing] Belief About Race"

Jodie Turner-Smith is an impeccable talent, and that shines through in the new remake of Anne Boleyn. The actor took on the lead role of King Henry VIII's second, and arguably most memorable, wife in a three-episode miniseries streaming on AMC+. Jodie chatted with POPSUGAR ahead of the show's US debut about the nuances of playing the historical figure and Jodie's relationship to Anne as a mother herself. She also shared what it was like portraying a white British monarch as a Black British actor. "I was encouraged by the filmmakers, who were really interested in telling the story in a different way," she told POPSUGAR, adding, "It really felt like a story about motherhood, which was particularly meaningful to me."
The show is a straightforward retelling of Anne's story: a woman who went through pregnancy loss amid pressure to produce a male heir, had to turn away from King Henry VIII's cheating, and ultimately died by beheading due to claims of adultery and treason. Through it all, she worked to protect the future of her daughter Elizabeth — who, after a series of events, became queen.
"Anne Boleyn was a polarizing figure in her time. There was so much about her that was audacious for the time but audacious in general because we haven't really moved that far when it comes to our expectations of what women are allowed to do in a 'man's world,'" Jodie told PS. Aside from being a rebel at the time, Anne's story is still riveting today because there is little to no insight into her life written from her own words. "She is a woman of mystery, who birthed a woman who was considered one of the most important monarchs in British history, who was responsible for influencing a major moment in British history by getting Henry to split from the Catholic Church . . . She has this what seems like an eternal appeal."
While Jodie has a kinship with Anne as a mother to her nearly 2-year-old daughter, Janie, viewers of the TV series have to overlook the fact that she is a Black woman for the sake of storytelling. "There's an attachment to seeing the stories that we've been told in a particular way for a long time and seeing them told in ways that as storytellers, as producers, as directors, as writers, as artists . . . we have an opportunity to bring light to any and all kinds of stories [and] to reimagine things to bring stories to new audiences in different ways," Jodie said of the historical oversight. "Anne Boleyn, a woman who was walked on this planet, was certainly not a Black woman. But I have an opportunity now to tell a story, while we suspend belief about race and we say, perhaps, let's pretend that race does not exist. What is the human story behind this person?"
We say it all the time: race is a social construct. Anne Boleyn and shows like Bridgerton set in the Regency era with Black actors as equal to their white counterparts is exactly what history would have looked like had racism been challenged earlier.
Jodie hopes that one day, we'll "be able to tell stories about humanity and where we're focusing on human experiences that are shared, such as limitations such as ambition, such as love, motherhood — things that we all go through whether we are born into a certain culture or quote-unquote race." Continue reading to get a glimpse of Jodie as the famous monarch.
Source: Read Full Article