The link between Joe Francis and the Kardashians dates back to long before their reality TV royalty. The "Girls Gone Wild" founder opened Casa Aramara in Punta Mita, Mexico in 2001, and the resort wound up being a mainstay for the Kardashians. In 2005, Joe was romantically linked to Paris Hilton, who introduced him to her friend Kim Kardashian around that time, per Complex. During an early episode of "Keeping Up with the Kardashians," Joe made an appearance on the show and invited the sisters to come to his Mexican resort to model bikinis. Joe became embedded in the Kardashian Clan. He was among the select few who were on-hand when Kanye West proposed to Kim at San Francisco's AT&T Park in 2013. "It was like a movie. Kanye West has outdone every man," he told the Huffington Post about the engagement.
In 2015, Kourtney Kardashian commemorated the first night she met long-time partner Scott Disick with a throwback photo posted to her Instagram. Joe is seen sitting front and center while Kourtney and Scott are not close to each other. Speaking to InTouch in 2014 (via Elite Daily), Joe took credit for introducing Kourtney and Scott. "I introduced Kourtney and Scott at my house in Mexico," he told the outlet. "Scott came as the guest as a friend of mine, and they met in my master bedroom." Okay.
Joe has since revealed bombshells about that fateful night, along with sordid details about his own relationship with Kourtney …
Kourtney Kardashian reportedly hated Scott Disick at first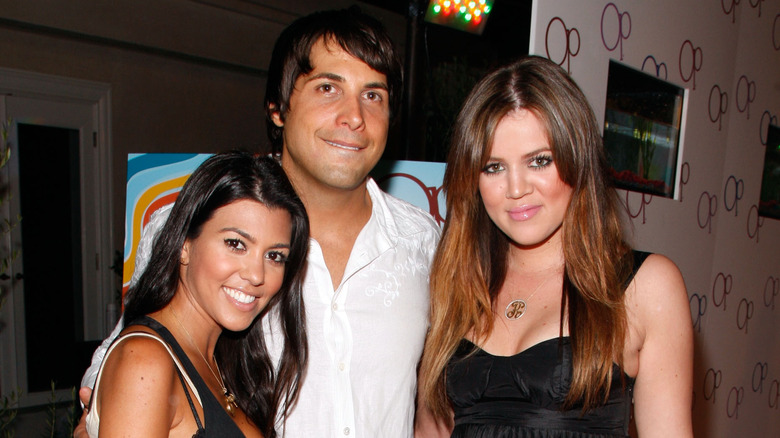 Joe Francis had been romantically linked to Kourtney Kardashian in the past, although it was brief, per Complex. While appearing on the podcast "Juicy Scoop with Heather McDonald" on Sept. 9, however, Joe said that he not only got romantic with Kourtney while she was in Casa Aramara, but it was when he was dating Kim Stewart. "Did I have sex with Kourtney on that trip? Yes. Did I have sex with Kim Stewart on that trip? Yes," Joe said (via Page Six). He also divulged that it was the same night Kourtney met Scott Disick. "And interestingly enough, that is when Kourtney and Scott met," he added.
According to the "Girls Gone Wild" honcho, Kourtney would not leave his room, so he recruited Scott to escort her out. "And Scott came down and I was trying to devise a plan to get her out of my room and she stood by the door," Joe said (via Page Six). Apparently, it was not love at first sight between Kourtney and Scott, as she left a note trashing him. "Joe, [Scott] is the biggest d****bag ever. I hate you for trying to make me go with him," the note read.
During an episode of "Keeping Up with the Kardashians" from 2014, the couple confirmed their early tension. "I liked her. She wanted nothing to do with me." Scott said (via E! News) which at least slightly corroborates Joe's rendition of the evening. Wow.
Source: Read Full Article