Ina Garten has a number of delicious satisfying recipes but there's one she called "probably the fastest and most delicious soup ever." The Barefoot Contessa star's pea soup with crispy ham uses an easy shortcut, a handful of ingredients, and requires very little cooking time.
Ina Garten said this recipe is 'the fastest soup I've ever made'
Garten wrote about the recipe in a 2020 Instagram post with a picture showing off her delicious soup. "My Spanish Pea Soup With Crispy Ham is made with those frozen peas you don't know what to do with!! It's the fastest soup I've ever made," she noted in the caption.
"If you don't have shallots, use onions, and bacon counts as 'crispy ham' right?" she added.
Garten made the recipe on an episode of Barefoot Contessa, pointing out that it's a delicious satisfying meal that doesn't require a lot of effort. "The pea soup with crispy ham for Jeffrey is probably the fastest and most delicious soup ever," she shared.
Garten heated olive oil in a saucepan over medium heat and sautéed shallots for 3 to 5 minutes, stirring occasionally until they were tender. Then she added minced garlic and cooked everything for a minute more, then added chicken stock and frozen peas "directly from the freezer."
She said, "Now that's easy."
https://www.instagram.com/p/B-pHp_BJIFj/
The 'Barefoot Contessa' star's pea soup gets a crispy topping
The Barefoot Contessa star seasoned the soup with salt and pepper and brought it to a boil. Then she lowered the heat and simmered the soup for 5 minutes. She used an immersion blender to coarsely puree the soup so it was blended slightly but still had texture.
The recipe noted a tip if you don't have an immersion blender for this step. "Alternatively, use a blender to puree the soup 1 cup at a time," the recipe explains. "Pour the soup back into the pot and season to taste."
To make the crispy ham, Garten placed slices of prosciutto in a single layer on a sheet pan and roasted it in a 425 degree Fahrenheit oven for 5 minutes.
She served the soup with a slice of crispy ham on top and added a drizzle of olive oil.
The full recipe is available on the Food Network website.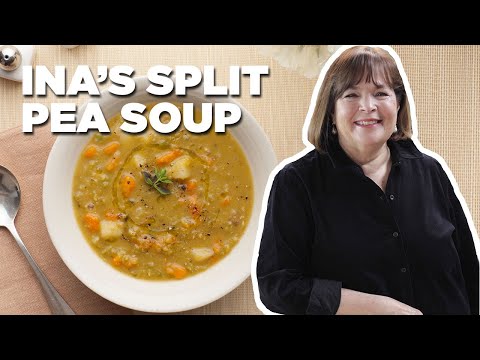 Garten's fans give the soup glowing reviews
Garten's recipe has received many rave reviews on the Food Network site. "My family loves this soup. Easy to make on the weeknight as well," one person commented. "We sometimes sub bacon for the Spanish Serrano ham or Italian prosciutto. Love the drizzle of EVOO on the top."
Others raved, "Delicious and very easy" and "GREAT recipe! Saw this on the show and it looked easy and delicious!!
It is!"
One fan called the recipe "amazing," sharing how they added "a splash of cream in the end for a bit of decadence."
Garten definitely changed some people's minds about green soup. "I never liked pea soup until I tried this recipe," one fan shared. "It's delicious and super easy and, omitting the prosciutto, is great for my vegetarian friends."
Another commenter had the highest praise for Garten's recipe. "Soups can be good, soups can be easy. This one is both, exceptionally so," they commented. "I like split pea soup but this is a different animal altogether, much fresher." They added that the soup is "even better the next day" and is "spectacular cold."
Source: Read Full Article