Simone Biles has returned home to Texas after competing in the 2020 Tokyo Olympics. Biles went into the Olympics as the heavy favorite, with many predicting that she would win gold in every medal event that she took part in, according to NPR. However, Biles found herself needing to take a step back during the team final, later revealing that she needed to take some time to focus on her mental health, NBC News reported. As the days went by, Biles took the time that she needed. When reporters asked what her goals were for these Olympic Games, Biles responded, "to focus on my wellbeing. You know there's more to life than just gymnastics," according to the Irish Times.
And that's just what she did. Biles took things day-by-day, pulling out of competitions that she didn't feel she could compete in. But she did compete in the balance beam final on August 3 — and she earned herself a bronze medal. Upon leaving Japan, Biles wrote on Instagram, "not at all how I imagined or dreamed my second olympics would go but blessed to represent the USA. I'll forever cherish this unique olympic experience. thanks everyone for the endless love and support. I'm truly grateful."
Biles couldn't wait to get home to see her family; her parents Nellie and Ron Biles, as well as her boyfriend Jonathan Owens. And while things took an unexpected turn for her in Tokyo, she had a lot to celebrate nonetheless. Keep reading to find out what Biles did when she got home.
Simone Biles spent some time in New York City before flying home to Houston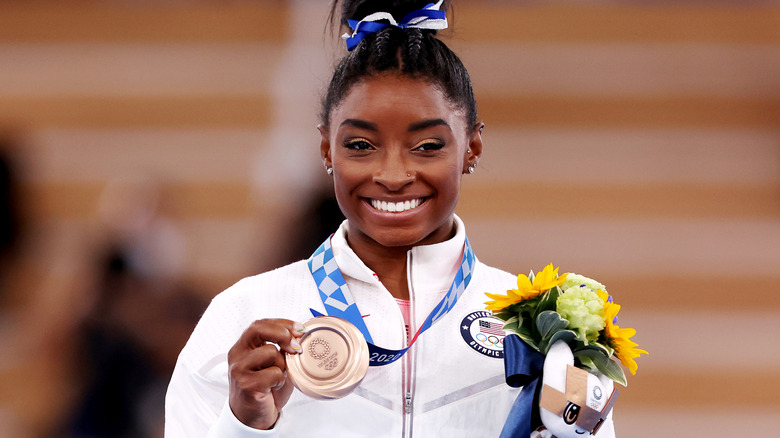 Simone Biles and Team USA flew into New York City, and made an appearance on Today before heading home to their respective families. According to People magazine, Biles enjoyed her time with her teammates — her friends — in the Big Apple, grabbing an ice cream and getting some shopping in. Biles even got herself a new Louis Vuitton bag. The seven-time Olympic medalist documented the trip on her Instagram Stories.
Biles left Tokyo with two medals; a bronze in balance beam and a silver from the team final. And while nothing can quite compare to the feelings that athletes experience at The Games, there's nothing quite like the feeling of being home, either. Such was the case for Biles, who took to Instagram to share photos of herself hugging her parents at the airport upon her arrival. "Houston, I'm home. Thanks for making sure I didn't have to wait one more minute to see my family," Biles captioned the post, tagging United Airlines. You know what they say… "there's no place like home."
Source: Read Full Article