In light of Princess Diana's statue unveiling, tensions between Prince Harry and Prince William have finally started to thaw. The brothers, according to an Us Weekly report from before the ceremony, are reportedly "ready to move past the rift and have a good relationship again." And now, it seems like Meghan Markle and Kate Middleton are ready to do the same, if Us Weekly's newest intel is any indicator.
"Tensions have eased between Meghan and Kate," a source tells the outlet, referring to the turbulent nature of their relationship after Meghan and Harry did their tell-all interview with Oprah earlier this year. "Kate even sent Meghan a gift for the baby. They're in a better place and have exchanged texts since the birth of Lilibet."
As you may recall, Meghan cleared up a false report about her wedding during the tell-all—multiple outlets reported Meghan made Kate cry about an issue concerning bridesmaids attire, but Meghan revealed that the opposite actually happened. "The narrative with Kate, it didn't happen," Meghan explained. "A few days before the wedding she was upset about flower girl dresses and it made me cry. It really hurt my feelings."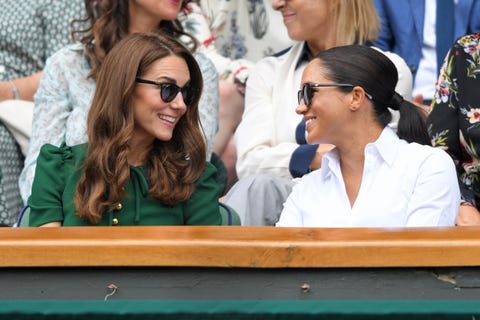 The good news? It sounds like that incident is water under the bridge now. "The bridesmaids dress incident took place so long ago and [it] feels pointless to hold onto the anger…it's wasted energy. They've called it truce," the source says, adding that "the birth of Lili has brought Kate and Meghan closer together…they've bonded over both having daughters and can't wait for all the cousins to meet."
Finally, the happy ending to this royal drama we've all been waiting for—so glad that the royals are getting along much better these days!
Source: Read Full Article