Tarek El Moussa revealed he is filming Flipping 101 season 3, and many fans shared that they don't want to see the HGTV star working with his wife, Selling Sunset star Heather Rae Young. Here's what fans told the Flip or Flop star and how they feel about his famous partner.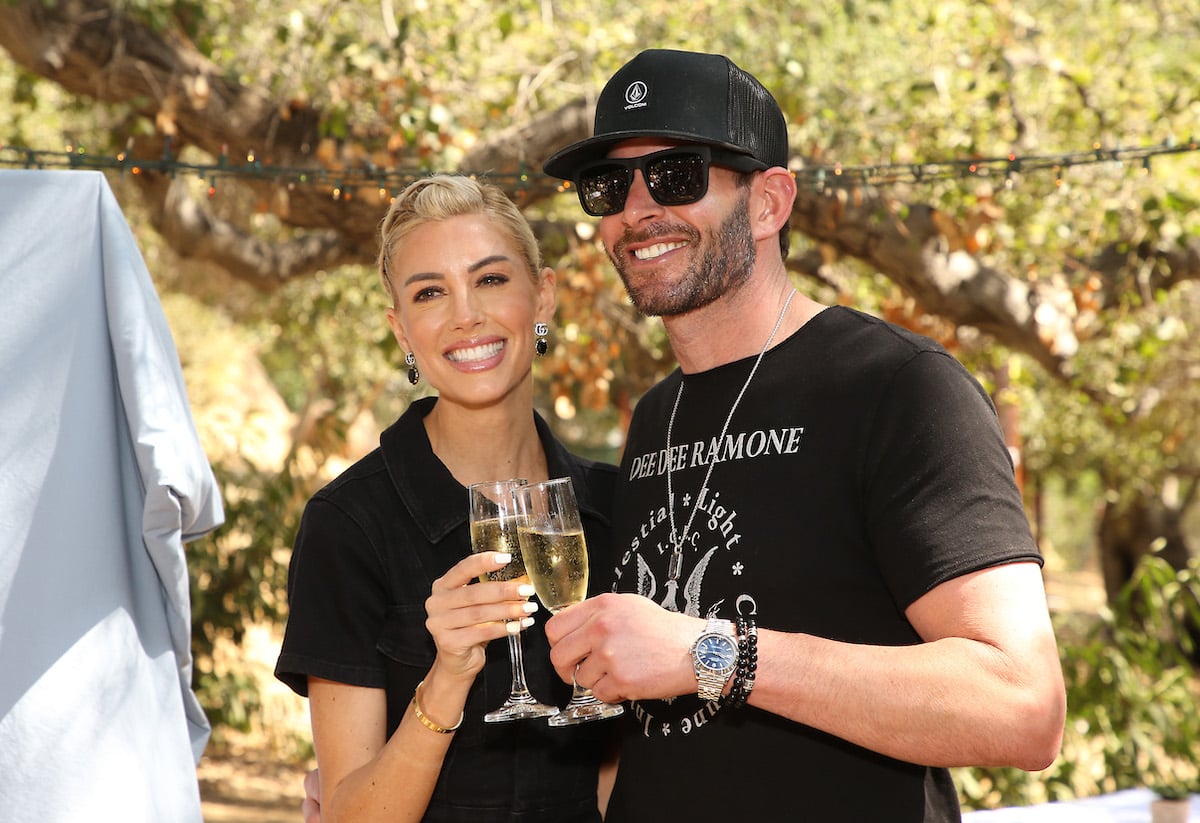 Tarek El Moussa revealed that he is filming 'Flipping 101' season 3
On May 23, Tarek El Moussa revealed on Instagram that he is filming the third season of his HGTV show Flipping 101.
"Back to filming 🙌🏼 flipping 101 is underway, after about six months off of filming… With the wedding and everything else, it feels so good to be filming!" the Flip or Flop star captioned a photo of himself with two co-workers. "Working on some cool projects for season 3! who's excited??"
Season 2 of Flipping 101 aired in November 2021, and season 3 is scheduled to air in early 2023.
It looks like El Moussa is focusing on the spinoff series after Flip or Flop ended in March. The popular house renovation show followed El Moussa and Christina Haack as they flipped and designed houses, but the couple got divorced in 2018. They continued filming together through their divorce, and El Moussa married Selling Sunset star Heather Rae Young in 2021. 
https://www.instagram.com/p/Cd7Gh8ALY_2/
Tarek El Moussa's fans commented that they don't want to see 'Selling Sunset' star Heather Rae Young on a TV show with him
After Tarek El Moussa revealed he was filming season 3 of Flipping 101, many fans took to the comments section of his Instagram post to say that they didn't want to see his wife, Heather Rae Young, on a Flip or Flop style show with him.
In a comment that has 14 likes, one fan wrote, "Can we please get flip or flop with you and Heather?" But, in a response that has 11 likes, one fan replied, "Oh please no." And another fan said, "Oh definitely not."
Another fan replied, "you want them to divorce or something lol … working with your spouse is rarely a good idea…. 😂"
"Maybe bring her in on flipping 101 instead?" one fan suggested. "Then it wouldn't be weird and she has experience in real estate🤷‍♀️"
https://www.instagram.com/p/CcCFvoEr2Fu/
Fans previously said they don't want to see the Heather Rae Young on a new TV show with the 'Flip or Flop' star 
The fan reactions to Tarek El Moussa's post about filming Flipping 101 mirrored their previous response to the Flip or Flop star asking if he should flip a house with Heather Rae Young.
On Apr. 7, El Moussa shared an Instagram post asking fans if he and the Selling Sunset star should work on a real estate project together. 
"My incredible wife, @heatherraeyoung, is just as smart and driven as she is beautiful and kind:) I got really lucky, she's honestly the perfect match for me❤️," El Moussa captioned a picture of himself and Young. "We had an idea…but wanted your opinion. Should Heather and I work on a flip together? If so, what style of house could you imagine us doing together? Can't wait to hear!:)"
Fans responded in the comments section of El Moussa's post, and most of them seemed opposed to him working with his wife on TV.
One fan commented, "I would say keep your relationship out of the workplace," while another wrote, "Nooo. I don't think you guys should work on a flip together. You do well keeping it separate. Why mess with the system you have?"
And another fan reminded El Moussa that his marriage to his Flip or Flop co-star Christina Haack ended in divorce. "Ummm nnnnoooo look at the track records of couples that work together on tv (you included)."
Source: Read Full Article