Joe Biden's first trip to the U.K. in June 2021 since becoming president marks the first time that Queen Elizabeth has met with a U.S. president without her husband by her side, as Prince Philip died on April 9 at the age of 99. If that's not all, 2021 marks an unusual year for the monarch, as "most of her in-person engagements were shelved because of the coronavirus pandemic" (via CNN).
Queen Elizabeth has an impressive resume as "the fourth longest-reigning monarch ever" (via People). She has met with every U.S. president since 1951 except for Lyndon B. Johnson. During his presidency, Johnson did not travel often. When the two had an opportunity to meet at John F. Kennedy's funeral, Elizabeth was unable to attend because she was pregnant with her son, Edward, according to Refinery 29. Over the years, she has maintained good relationships with several presidents and would even call many of them friends.
Keep reading to learn about each time the queen met with a U.S. president over the past seven decades.
Elizabeth met Harry Truman before she became queen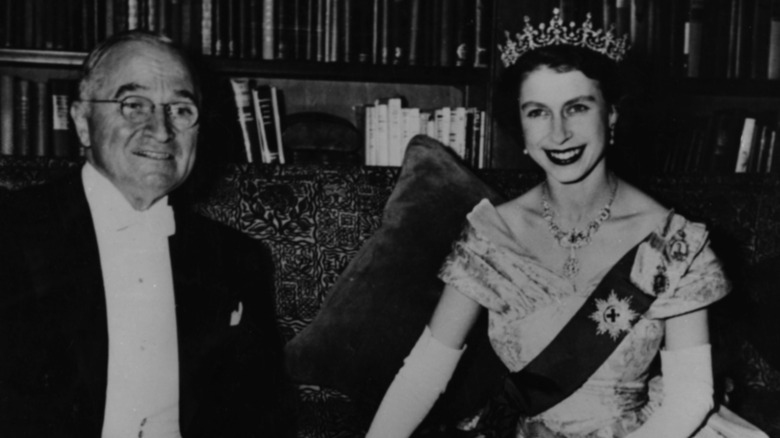 Back in 1951, Queen Elizabeth traveled to the United States with her husband, Prince Philip. During the trip, the royals had the chance to meet with then-president Harry Truman, his wife, Bess Truman, and their daughter Margaret Truman. The queen was just a princess at the time, but she had stepped into a role filled with more responsibilities due to her father's illness; King George VI had been battling lung cancer at the time. He died the following February after suffering a coronary thrombosis at the age of 56. At the time of his death, Elizabeth ascended to the throne when she was just 25, according to Good Housekeeping.
During the queen's visit with Truman, the two "complimented each other's nations," and Elizabeth told Truman that "free men everywhere look towards the United States with affection and with hope," Business Insider reports. At one point during the two-day visit, the then-princess accompanied Truman to the Rose Garden at the White House, where she presented him with an 18th century "over mantle," according to the British Pathé. In thanking the queen, Truman hoped that she would return to the White House with her children in the future.
Queen Elizabeth met Dwight D. Eisenhower in 1957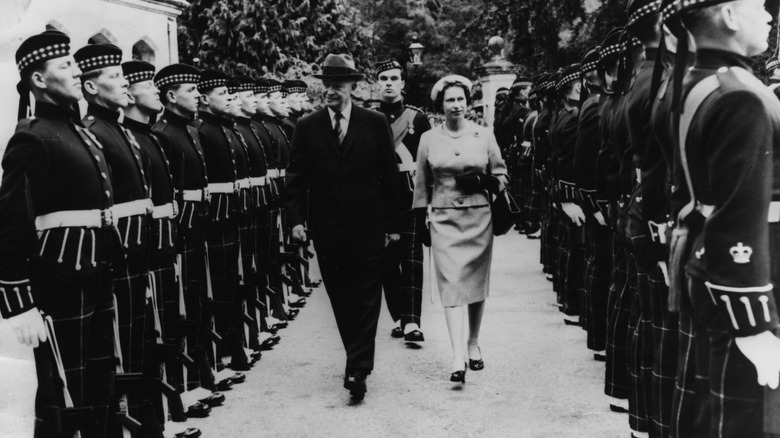 Five years after being crowned, Queen Elizabeth traveled to the U.S. once more, this time meeting with then-president Dwight D. Eisenhower. The 34th president of the United States had previously met the queen's parents and developed a friendship with them. Through that relationship, he had also gotten to know Elizabeth when she was a princess, according to BBC America.
Eisenhower became the first president of the United States to be knighted. The honor was bestowed upon him by King George VI on June 12, 1943, according to Royal Central. In 1945, the king honored Eisenhower with the Order of Merit.
After King George VI died, the queen carried on a close relationship with Eisenhower. He traveled to the U.K .to visit with her on more than one occasion, and the two even took a voyage together on the queen's yacht, BBC America reports. Throughout the years, the queen was known to write letters, and it has been said that she corresponded with Eisenhower this way, according to Business Insider. One of her letters, in particular, was featured at the National Archives in Washington back in 2011, according to BBC America. In it, she included her recipe for "drop scones."
Queen Elizabeth hosted John F. Kennedy in 1961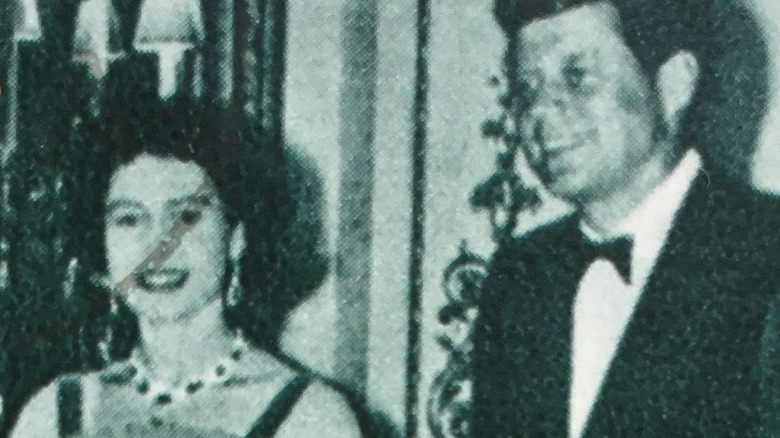 In 1961, then-president John F. Kennedy traveled to London with his wife, Jackie Kennedy, and had dinner with Queen Elizabeth and Prince Philip at Buckingham Palace. Their relationship played out on an episode of "The Crown," though, as the Washington Post points out, not everything was completely accurate. The queen and JFK got along swimmingly, but there was some tension between Elizabeth and Jackie. "The queen was pretty heavy-going," Jackie reportedly told her friend, Gore Vidal, according to numerous biographies about her life. "Phillip was nice, but nervous. One felt absolutely no relationship between them," the then-first lady of the United States also reportedly said.
According to Reader's Digest, Elizabeth and Jackie had a disagreement over the guest list, as the latter wanted to invite her sister and brother-in-law, a divorcée, to dinner, but the queen objected. The reasoning? "Traditionally, divorcées are not invited, so the queen has been reluctant to welcome Jackie's sister Princess Lee Radziwill, who is on her second marriage, or her husband, Prince Stanislaw Radziwill, who is on his third." The queen did oblige, but she chose not to invite her own sister, Princess Margaret, whom Jackie was hoping to meet.
Nevertheless, the queen and President Kennedy corresponded regularly until he was assassinated in 1963, according to the Washington Post. Philip attended his funeral alone as the queen was pregnant at the time and couldn't travel, according to Town & Country. In 1965, Britain dedicated a memorial in Kennedy's honor, British Heritage reports.
Queen Elizabeth & Richard Nixon exchanged signed photos of one another in 1969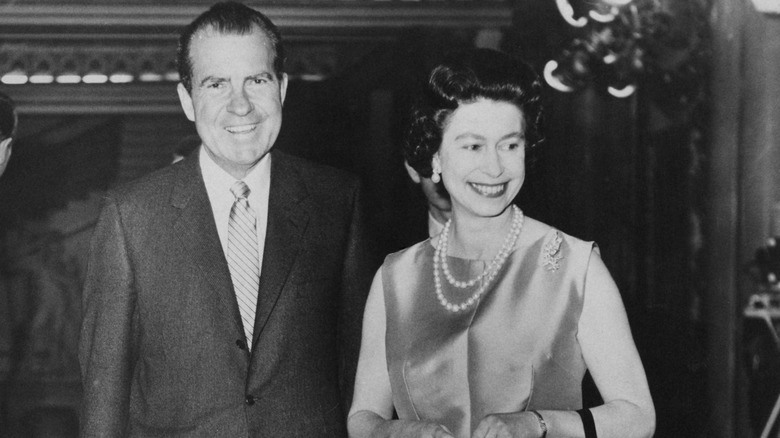 Queen Elizabeth had quite an interesting meeting with Richard Nixon in 1969. During the informal meeting at Buckingham Palace, the queen presented Nixon with "signed photographs of herself and Prince Philip as a small memento," according to CNN. Nixon returned the gesture, presenting the queen with a signed headshot, but promised that he would send her an updated photo that included his wife, Pat Nixon, as he joked it would be "more pleasant to look at the two of us." Reports indicate that Nixon tried to set up his daughter Tricia Nixon with the queen's eldest son, Prince Charles, though nothing ever came of the attempt. 
During their time together, the queen and Nixon were filmed for a documentary called the "Royal Family," which was broadcast later that same year, according to History. However, this wasn't the first time that Nixon had met the queen. The two were first introduced back in 1957 when the queen and Prince Philip traveled to the United States to meet Eisenhower. At the time, Nixon was vice president, according to BBC America. 
Gerald Ford welcomed Queen Elizabeth to the White House in 1976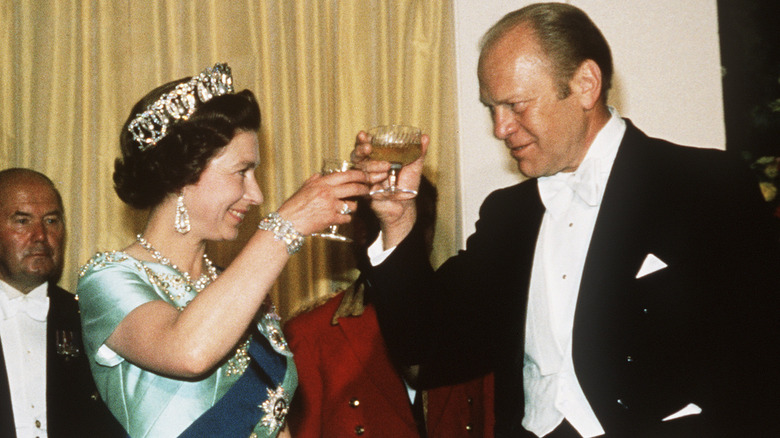 In 1976, Queen Elizabeth traveled to the United States and met then-president, Gerald Ford, at the White House. The queen and Prince Philip were welcomed for the Bicentennial Celebrations of the Declaration of Independence, and Ford and his wife Betty hosted a dinner in their honor, according to the Ford Library Museum. "The Queen was easy to deal with. She was very definite about what she wanted and what she didn't want. She loves Bob Hope and Telly Savalas, so we invited Bob Hope and Telly Savalas — both came — and if I hadn't kept mixing up Your Highness and Your Majesty (he's His Highness, she's Her Majesty), I'd give myself four stars for the way that visit went off," Betty Ford wrote in her book "The Times of My Life" (via Ford Library Museum).
Elizabeth and Betty also shared a mom moment during the visit. "The Fords met the Queen and Prince Philip at the entrance of the Diplomatic Reception Room before a white-tie state dinner. They escorted them to the elevator to go up the residence for a few minutes before dinner. When the elevator door opened the Fords' 24-year-old son Jack was standing there in jeans and a T-shirt. The Queen looked at Betty Ford and said, reassuringly, 'Don't worry, Betty, I have one of those at home, too,'" author Kate Andersen Brower told CNN Politics in 2019.
Jimmy Carter had dinner with the queen in 1977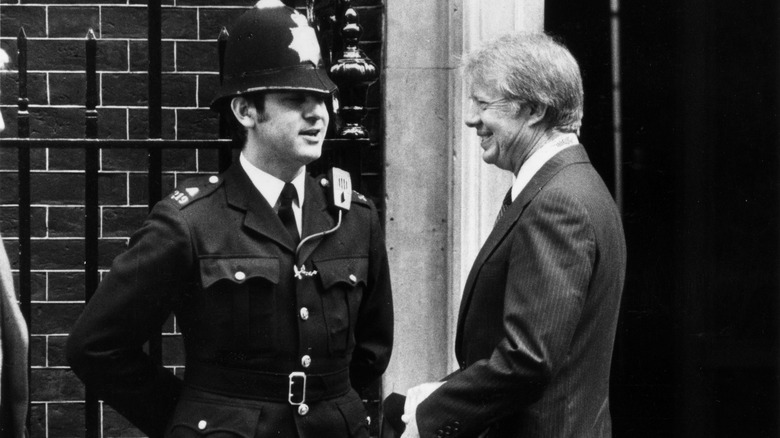 Jimmy Carter appeared to have a wonderful experience during his visit to Buckingham Palace in 1977. He described the palace as "one of the most beautiful places [he's] ever seen," according to CNN. "I had a good place to sit — I was between the Queen and Princess Margaret, and across the table was Prince Charles and Prince Philip and the Queen Mother. One of the things I told Queen Elizabeth was how much the American people appreciated her coming over last year to celebrate our 200th birthday. And she said that it was one of the warmest welcomes she'd ever received," he said.
And while Carter seemed absolutely delighted to be amongst British royalty, he may have gotten a bit carried away. According to the Chicago Tribune, he broke royal protocol upon meeting Queen Elizabeth's mother when he kissed her on the lips! "Nobody has done that since my husband died," the Queen Mother later said. Their connection — for lack of a better word — has been written about many times!
Queen Elizabeth built a strong relationship with Ronald Reagan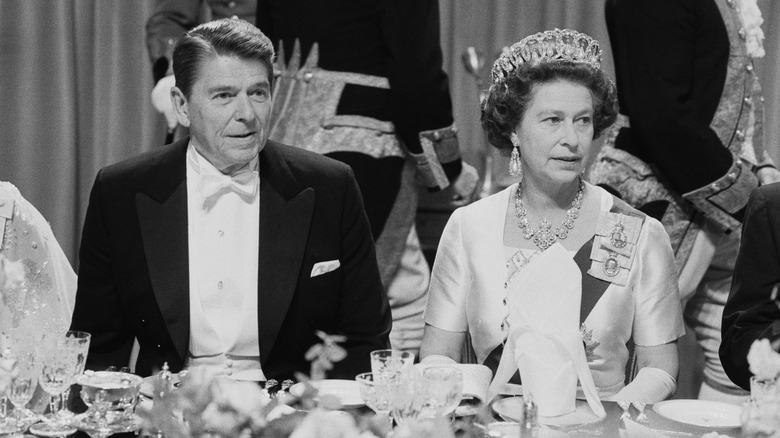 Queen Elizabeth and Ronald Reagan seemed to instantly bond when they first met back in 1982. At the time, Reagan was the first U.S. president invited to spend the night at Windsor Castle, according to BBC America, and he, accompanied by his wife Nancy Reagan, accepted the invitation. During the visit, Reagan and the queen went horseback riding together. Reagan seemed to enjoy himself during the outing as well, and he even wrote about it in his memoir, "An American Life." 
"The highlight of our stay there came when the Queen and I went horseback riding together and Nancy and Prince Philip took a horse-drawn carriage ride. I must admit, the Queen is quite an accomplished horsewoman. We will always remember our visit to Windsor Castle because of the Queen's and Prince Philip's warmth and welcoming hospitality — they could not have been more gracious," an excerpt reads.
Elizabeth made a trip to visit the Reagans at their ranch in Santa Barbara the following year, according to the Los Angeles Times. In the years that followed, the Reagans made additional trips to the U.K., including a very special one in 1989 after Ronald's presidency was over. On June 15 of that year, Reagan became the first U.S. president to be knighted by the queen (Eisenhower was knighted by her father), in recognition of his assistance to the U.K in the Falkland Wars. "I feel greatly honored," Reagan said at the time, according to Royal Central.
Queen Elizabeth and George H.W. Bush became great friends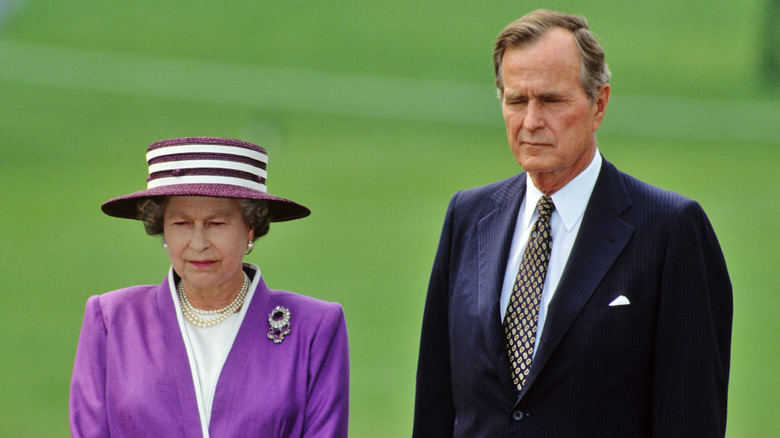 Queen Elizabeth and George H.W. Bush were said to be great friends. Upon their first visit in 1989, the queen gave Bush and his wife Barbara a tour of Buckingham Palace, according to the Daily Mail. Two years later, the queen visited Bush at the White House. In one memorable moment from the trip, the queen was invited to give a speech, but Bush forgot to raise the platform for her, so she could barely be seen over the top of the lectern, according to Fox News. It was during this trip that Elizabeth became the first monarch "to address both houses of Congress on Capitol Hill," Fox News reports.
Following former President Bush's death in 2018, the queen wrote a message that was posted on the royal's official website. "It was with sadness that I learned of the death of President George H W Bush last night. President Bush was a great friend and ally of the United Kingdom. He was also a patriot, serving his country with honor and distinction in Office and during the Second World War. Prince Philip and I remember our days in Texas in 1991 with great fondness. My thoughts and prayers are with President Bush's family and the American people," she wrote.
Bill & Hillary Clinton were guests on Queen Elizabeth's yacht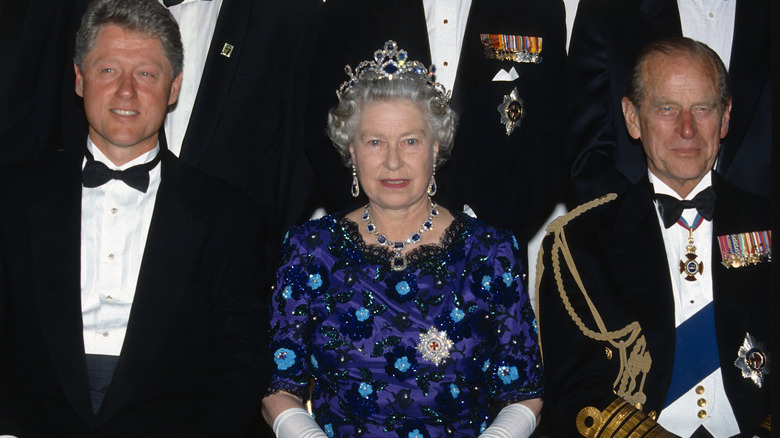 In 1994, Bill Clinton and then-first-lady Hillary Clinton were invited to Portsmouth by Queen Elizabeth to commemorate the 50th anniversary of D-Day. Following the event, Clinton spent a night on the queen's yacht, according to BBC America. Clinton appeared to really like the queen, and always seemed to have nothing but wonderful things to say about her. "She's a highly intelligent woman who knows a lot about the world … I always marvel when we meet at what a keen judge she is of human events. I think she's a very impressive person. I like her very much," he previously said, according to CNN.
Before his time in office ended, Clinton made another trip to the U.K. and had a spot of tea with the queen, according to ABC News. "Over their cups of tea, Clinton and Mrs. Clinton chatted for 20 minutes with the queen in her ornate audience room while Chelsea joined White House aides on a tour of the palace," the outlet reports. After Prince Philip's death in April 2021, former President Clinton released a statement. "Hillary and I mourn the passing of His Royal Highness The Duke of Edinburgh, and we join people from all around the world in giving thanks for his remarkable life of service. We enjoyed every opportunity we had to visit with him through the years and will always be deeply grateful for the kindness he showed us," Clinton wrote, according to the Clinton Foundation.
George W. Bush became the first president to make a state visit to the U.K. in 2003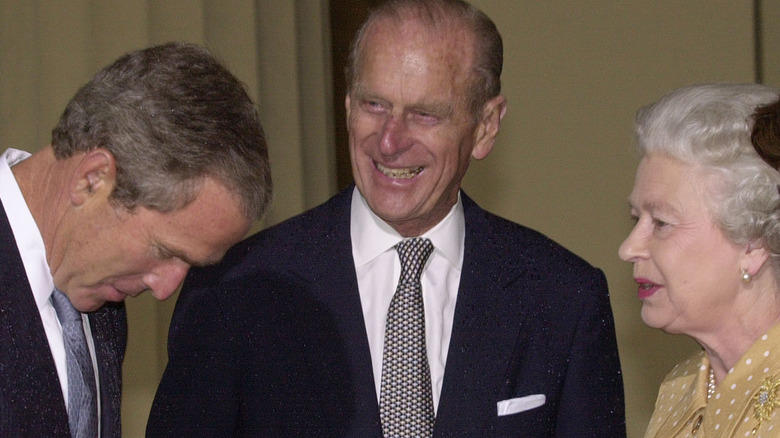 George W. Bush had lunch with Queen Elizabeth at Buckingham Palace in July 2001. At the time, Bush was the 11th U.S. president to have been elected during the queen's reign. He was the first, however, to make a state visit to the U.K. in 2003. By definition, "a state visit is when the head of state visits a foreign country at the invitation of its own head of state," according to Metro. While Elizabeth had previously invited other U.S. presidents to the U.K. — and vice versa — Bush's 2003 trip evidently included more fanfare and "banqueting with the queen," as Buckingham Palace described it, according to CNN.
In 2007, Elizabeth made the trek to the United States and was on-hand to celebrate the 400th anniversary of the founding of Jamestown. During a speech during an official welcome ceremony that took place on the White House lawn, Bush fumbled over his words and said that the queen had celebrated the U.S. bicentennial back in 1776, rather than in 1976. According to The Guardian, Bush looked at the queen and back at the crowd and said, "she gave me a look that only a mother could give a child." Later that same evening, Elizabeth took a jab at Bush during a toast. "I wondered whether I should start this toast by saying, 'When I was here in 1776…'" the queen said with a smile. Everyone laughed.
Barack Obama called Queen Elizabeth one of his 'favorite people'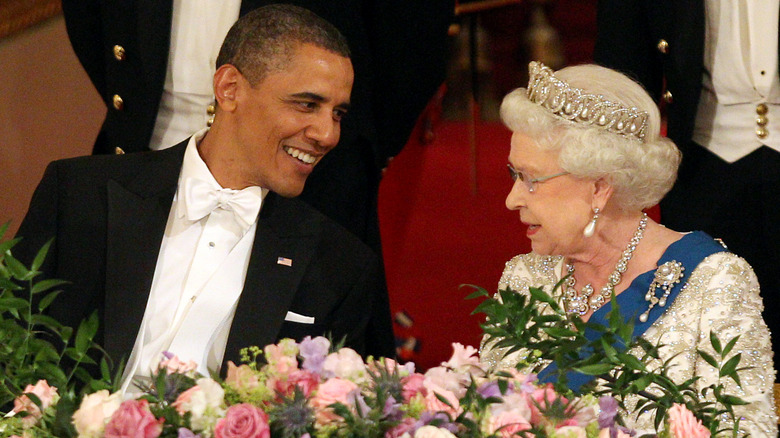 During a meeting in 2011, Barack Obama did something very thoughtful for Queen Elizabeth. The White House was able to assemble a collection of various invitations and notes from King George VI's last visit to the United States. Barack and Michelle presented the gift to the queen in a leather portfolio," according to People magazine. Over the years, Elizabeth has been known to collect items that once belonged to her father, so this was a special gift indeed. This wasn't the only time that the Obamas gave the queen a gift. In 2007, they went with an iPod, according to Politico. And while some royal experts criticized the present, the Obamas also included something very rare; a songbook autographed by American composer Richard Rodgers.
In 2009, the leaders would meet again. This time, however, Michelle broke royal protocol by putting her hand on the queen's back. In her memoir titled "Becoming," Michelle revealed that the queen didn't seem to mind (via Insider).
Needless to say, the Obamas got along swimmingly with the queen. Ahead of her 90th birthday, Barack said that she's been "a source of inspiration for [him] like so many other people around the world," according to BBC News. He went on, "She is truly one of my favorite people and should we be fortunate enough to reach 90, may we be as vibrant as she is. She is an astonishing person and a real jewel to the world and not just to the United Kingdom."
Donald Trump joined Queen Elizabeth for tea at Windsor Castle in 2018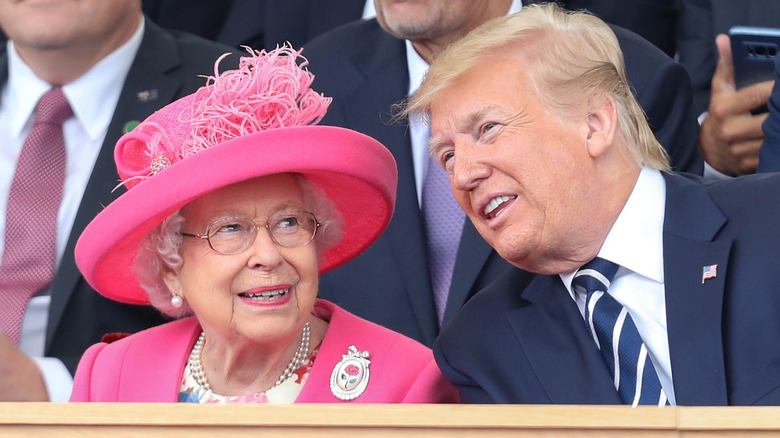 In July 2018, Donald Trump arrived at Windsor Castle to meet with Queen Elizabeth. The two enjoyed a spot of tea and walked the property, looking at the Coldstream guards, according to Time. During his first visit, Trump made several royal faux pas, according to USA Today, including showing up late for their scheduled meeting and walking in front of her. Nevertheless, he seemed to have a great time. "I have such a great relationship, and we were laughing and having fun. And her people said she hasn't had so much fun in 25 years. Then I got criticized for it because they said we were having too much fun," Trump told "Fox and Friends" in a phone interview, according to CNN.
Trump made another appearance in the U.K. in June 2019, when he and former first lady Melania Trump were on hand to commemorate the 75th anniversary of D-Day. "As we face the new challenges of the 21st century, the anniversary of D-Day reminds us of all that our countries have achieved together," the queen said during a speech at a banquet, according to Vogue. While there have been plenty of rumors that the queen isn't too fond of Trump, she has never spoken out about him or his character in any negative — or positive — way.
Source: Read Full Article