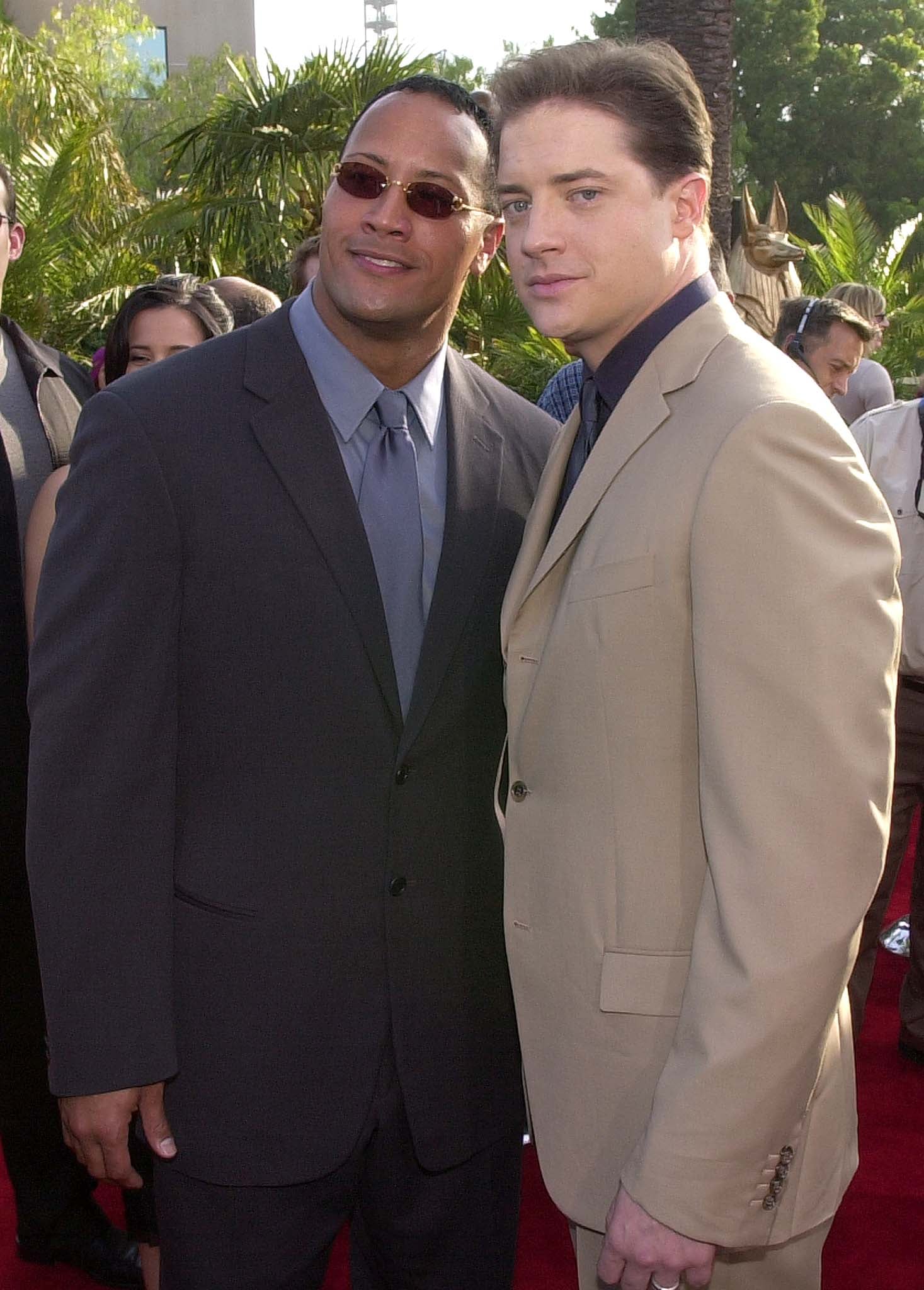 Brendan Fraser received a rousing standing ovation at the screening of "The Whale" at the Venice International Film Festival on Sept. 4. "The standing ovation for #TheWhale was so enthusiastic, Brendan Fraser tried to leave the theater but the crowd's applause made him stay," Variety's Ramin Setoodeh tweeted after the premiere.
In a reply to Setoodeh's tweet, Fraser's former costar Dwayne "The Rock" Johnson celebrated the positive reception. "Man this makes me so happy to see this beautiful ovation for Brendan," Johnson wrote, going on to thank Fraser for helping him out when he first started acting. "He supported me coming into his Mummy Returns franchise for my first ever role, which kicked off my Hollywood career," the star wrote. "Rooting for all your success brother and congrats to my bud Darren Aronofsky."
Johnson's first-ever acting role was in 2001's "The Mummy Returns," in which he played the Scorpion King alongside Fraser's intrepid explorer Rick O'Connell. In "The Whale," which is set to hit theaters on Dec. 9, Fraser plays an English teacher struggling with obesity and attempting to reconnect with his estranged daughter, portrayed by Sadie Sink. Fraser, who was supposed to star as the villainous Firefly in "Batgirl" before it was axed, is currently enjoying a career comeback. After starring in major movies, such as 1997's "George of the Jungle," in the 1990s and early 2000s, Fraser's career went through a period of inactivity, and in a GQ article published in 2018, he cited injuries suffered on set, surgeries, his divorce, and the loss of his mother as reasons he had taken a step back from the spotlight.
In the article, he also alleged he had been groped by a former president of the Hollywood Foreign Press Association, Philip Berk, in 2003. In a subsequent GQ piece, Fraser revealed that the HFPA had dismissed his allegations, saying they shared a statement that read, "Although it was concluded that Mr. Berk inappropriately touched Mr. Fraser, the evidence supports that it was intended to be taken as a joke and not as a sexual advance." In the article, Fraser questioned whether he had been "blacklisted" by Hollywood due to the allegations.
Following the GQ articles, per Deadline, the HFPA released a statement that read, "We have always taken Brendan Fraser's allegations very seriously — both when he originally spoke out in 2003 and now again 15 years later. Back then, after an initial inquiry, we provided Mr. Fraser with the exact redress he sought — an acknowledgement of the transgression and an apology . . . We've shared the results of that investigation with Mr. Fraser, and again apologized, but also conveyed our need to abide by the investigation's finding that the exchange was not an intended sexual advance. We want to reiterate that the HFPA understands today — as it did 15 years ago — that what Mr. Fraser experienced was inappropriate."
"The Whale" marks Fraser's triumphant return as a leading man. Up next, he'll appear alongside Leonardo DiCaprio and Robert De Niro in "Killers of the Flower Moon," which is expected to premiere in 2023, per Deadline.
Source: Read Full Article