Thankfully for all the J.Lo stans in the room, Jennifer Lopez has been sharing *a ton* of details from her Las Vegas drive-thru wedding to Ben Affleck this weekend, from what she wore to the roller coaster of emotions she felt the day of. But fans everywhere have been left to get intel on exactly how the newlyweds' kids felt about their big day—until now. (A refresher: J.Lo shares 14-year-old twins Max and Emme with singer Marc Anthony, while Ben is the father of three children, Violet, 16, Seraphina, 13, and Samuel, 10, with Jennifer Garner.)
"Jen and Ben's Vegas wedding was totally planned, but also private," a source revealed to Entertainment Tonight. "They wanted it to be a moment they shared together and with their kids and fulfill a fun idea that they shared. To them, it was perfect, and a dream come true." S'cute!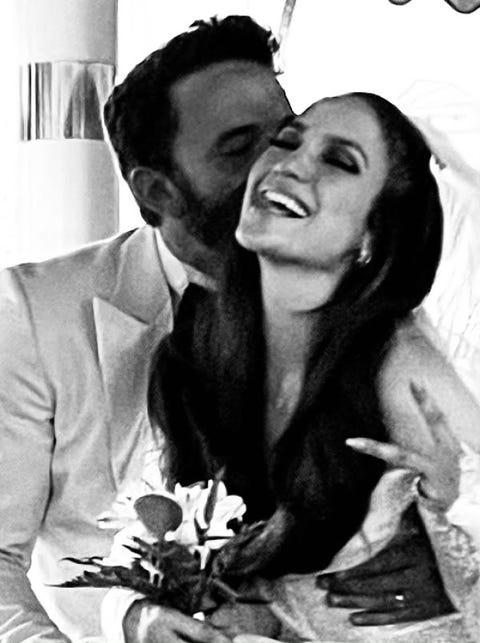 The insider added that the ~vibe~ throughout the ceremony was harmonious and each celeb's kids came together to celebrate their parents. "Their kids are feeling more united as a family since the Vegas wedding and they are all super excited to see what the future holds for all of them," the source added. "They all get along really well."
Immediately following the wedding, a source close to the couple told People that both of the J.Lo's kids were there, along with the dancer/actor/singer/literal superhuman's mom. "It was super, super small," they dished. "[Jennifer's] mom and kids were there. They just wanted to be married so they got married."
When news of the engagement initially broke, it was said that Ben had already confided in his ex-wife and their three children about his proposal "ahead of time." "His whole family knew a little before [the announcement]," the source revealed, adding that the newly-engaged pair had "waited a few days before sharing the news" publicly. "They are both happier than ever." Okay, so it sounds like pretty much everyone is on the same page here—obsessed!
Source: Read Full Article