Quick question: Do you remember where you were when Lori Harvey and your boyfriend Michael B. "Sexiest Man Alive" Jordan went Instagram official? Of course you do—their *little* (read: earth-shattering) relationship caused women everywhere to weep real tears and/or promptly learn witchcraft in an attempt to live in Lori's shoes. Life's a beach, ain't it?
That said, there is a LOT of ground to cover in Lori and Michael's yearlong relationship, including how they dropped the L-word, so let's get down into the details of the Hollywood coupling almost too good to be true. Almost.
Editor's note: This timeline goes in reverse chronological order, so if ya wanna "go back, back to the beginning," as wise philosopher Hilary Duff once said, be sure to scroll alllll the way down.
January 2, 2022
Michael and Lori rang in the New Year together and seriously never looked cuter or more in love. The couple posted a few flicks of their celebration to their respective Instagram pages and captioned the series of images "Happy New Year 🖤🥂".
https://www.instagram.com/p/CYPVXRaFBEO/?utm_source=ig_embed&utm_campaign=loading
A post shared by Lori Harvey (@loriharvey)
December 2021
In the December 2021 cover story for The Hollywood Reporter, Michael opened up about being in love in the public eye and why he decided to have his relationship with Lori out in the open. He talked about shying away from romantic movie roles in the past since he didn't think he had "enough life experience to play" them, but since his 'ship with Lori, oh how things have changed. "I finally found what love was," he gushed to the outlet.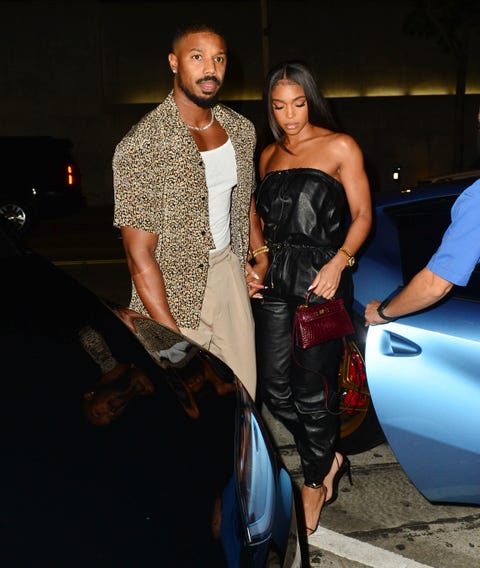 Not only was their 'ship "real enough" for Michael to feel comfortable and secure in taking it public, but he also felt like time was on his side. "Long story short," he said, "I think it's just the timing of everything. It was the right time for me. Yeah. I'm happy." 😍
November 25, 2021
Thanksgiving was a good time for the couple. From Lori's Instagram photo and video dump celebrating the day, Michael spent the holiday with her and her family shooting pool and taking ~ultra~ sexy bathroom pics. Your! Faves! Could! Never!
Before this, the couple celebrated their one year anniversary, most of which—for the fans, that is—was commemorated on both of their Instagram Stories.
https://www.instagram.com/p/CWuSEF3LVtf/?utm_source=ig_embed&utm_campaign=loading
A post shared by Lori Harvey (@loriharvey)
September 20, 2021
Lori made her talk show debut as the first season 8 guest of The Real in September. She said that part of what makes their relationship "so special" is that she and Michael "just really balance each other." She continued: "I really do believe in the statement when they say, 'When you know you know,' and I think that really applies to our situation. We just have a really good time together. He's so sweet, very attentive. He listens to me and the things that I say that I want and he really makes an effort."
Lori also dished on one of the sweetest lil things Michael's done for her in the past, not before blushing and flashing a huge smile though! "He's really good at all the big things, like Valentine's Day, birthdays, all that," she said. "But it's the little things, the everyday things, that I think really is what makes him special—like he just listens to me when I talk. Even the other day, I had just been saying I really just wanted to go to a farmer's market, so he called me one Sunday morning and was like, 'What are you doing, get dressed, I'm about to come pick you up'. He took me an hour away to this really cute farmer's market and we had the best day. So, it's things like that."
July 11, 2021
Michael B. and Lori took "wish you were there" to a whole new level with thee cutest chill summer beach moment. I mean, tell me your shoulders don't just immediately relax while looking at this:
https://www.instagram.com/p/CRMq7NTjgti/?utm_source=ig_embed&utm_campaign=loading
A post shared by Michael B. Jordan (@michaelbjordan)
April 22, 2021
Weren't expecting Michael to be so open about his relationship with Lori? Same, TBH! In a new interview with People, Michael said that being super open about his relationship with Lori isn't exactly his style, but he decided to switch up his usual tactics because he's sooooo smitten with her.
"I'm still private and I want to protect that, but it just felt like it was a moment of just wanting to put it out there and move on.…I am extremely happy," he said. "I think when you get older, you feel more comfortable about the [public nature] of the business that we're in. So for me, it was a moment to, I guess, take ownership of that and then get back to work."
March 22, 2021

During an appearance on The Ellen DeGeneres Show, Steve Harvey actually admits he once went out of his way not to like Michael. You know, just #OverprotectiveDadThings! "I have tried not to like him. I have tried to find something wrong with him that I can dig in," he says. "'Cause I got rid of all of [Lori's past boyfriends]. All of 'em. Some of them had snuck in the back door on me and lasted a lot longer than I wanted it to."
But because Michael is "such a good guy," Steve ended up extending his approval. "He is one of the nicest guys. I met his father. I've sat up with him. We've talked for hours. I just can't find nothing wrong with him," Steve says, adding he's "hoping this lasts."

February 26, 2021
Steve has spoken, and apparently, he is all the way down for Lori's new BF. Speaking about Michael during an appearance on Jimmy Kimmel Live!, Steve says that Michael "is a nice guy. He is not the Sexiest Man Alive to me. At all. But this kid, I like him, man."
Steve also v sweetly says, "When your kids grow up, they can make decisions on their own…I just am happy that I can at least approve of one." D'awww.
Steve addresses Michael's extravagant Valentine's Day gift for Lori and wishes him good luck for the next time another major occasion comes along: "Good luck, homie. Because you know, Valentine's come every year," he says. "I don't know if you know how this works or not, but I don't know how you're going to top that. But good luck, partner. I mean, it was really nice, what he did."
But the major bombshell? Steve says he actually met Michael's dad already!! "I'm happy for him. He's a great guy. Met his father and everything, but that was a lot. That was a lot. I don't know where you're going from here…Michael B. Jordan, good luck, homie," Steve concludes.
February 18, 2021

What better time than Valentine's week to drop the L-word? Michael posts happy pics of himself and Lori all dolled up, but it's the caption grabbing everyone's attention: "I love you baby."
https://www.instagram.com/p/CLcSWaPBBW_/?utm_source=ig_embed&utm_campaign=loading
A post shared by Michael B. Jordan (@michaelbjordan)
Lori posts some of her own, and really, these smiles speak for themselves.
https://www.instagram.com/p/CLch7t-lXI8/?utm_source=ig_embed&utm_campaign=loading
A post shared by Lori Harvey (@loriharvey)
February 14, 2021
Michael puts everyone to shame with his plans for his and Lori's first Valentine's Day together, which are so extravagant and sweet that even the happiest couple will be hella jealous.
MBJ goes ahead and rents out an entire aquarium (!!) for Lori, and of course she posts about it on Insta. I mean, just LOOK AT THIS: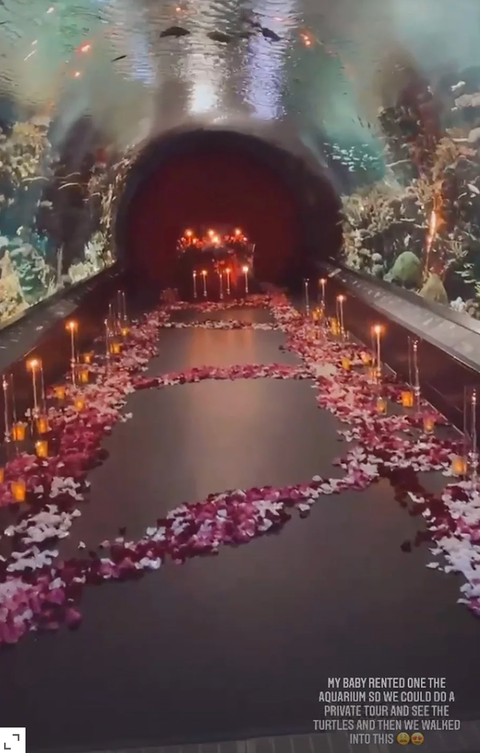 Plus he gave her a cute lil turtle stuffed animal, so yeah, they're basically in love.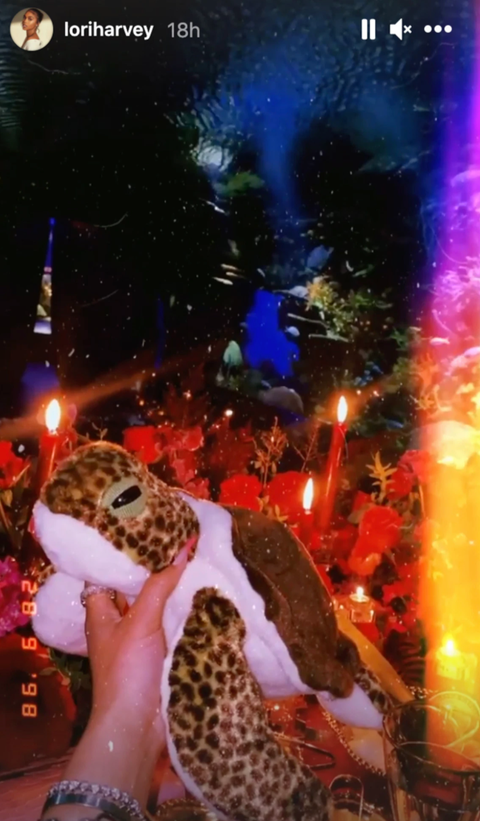 Michael really balanced the romantic with the practical, too, gifting Lori Hermès stock (lol) on top of it.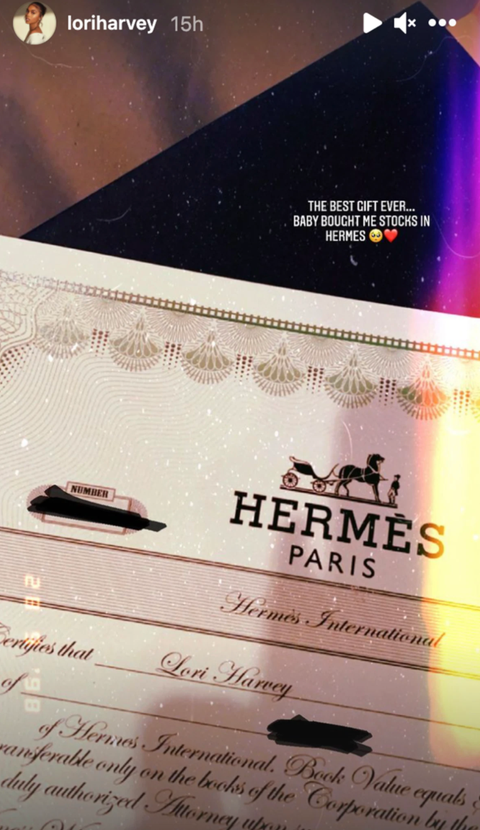 February 9, 2021
It's Michael's birthday now, and Lori's reciprocating alllll the love. To honor MBJ's special day, Lori posts the most adorable pic of them during a night out and writes, "Happyyy Birthdayyy Nugget 🎂 I love you baby…hope today has been at least half as special as you are." In the comments, MBJ replies, "Thank you baby I love you too."
https://www.instagram.com/p/CLF5yonFKW1/?utm_source=ig_embed&utm_campaign=loading
A post shared by Lori Harvey (@loriharvey)
Lori also dedicated her entire Instagram Story to Michael, and she gave her followers a look at some snaps that didn't make it to her feed: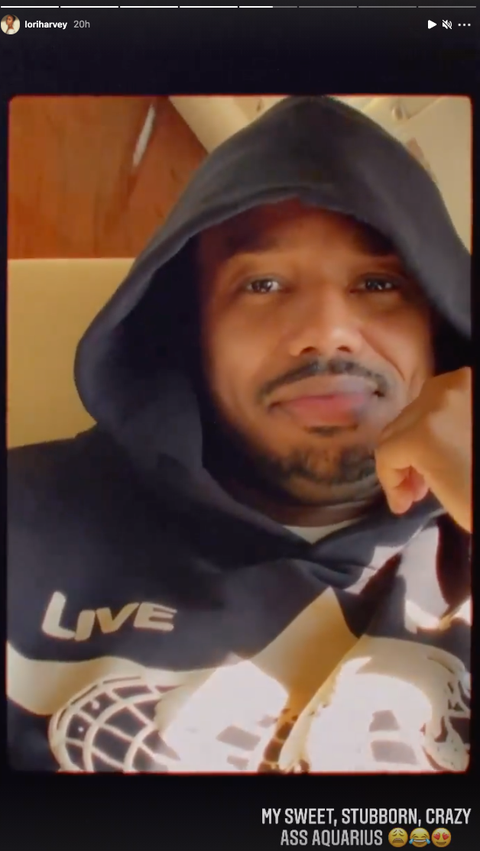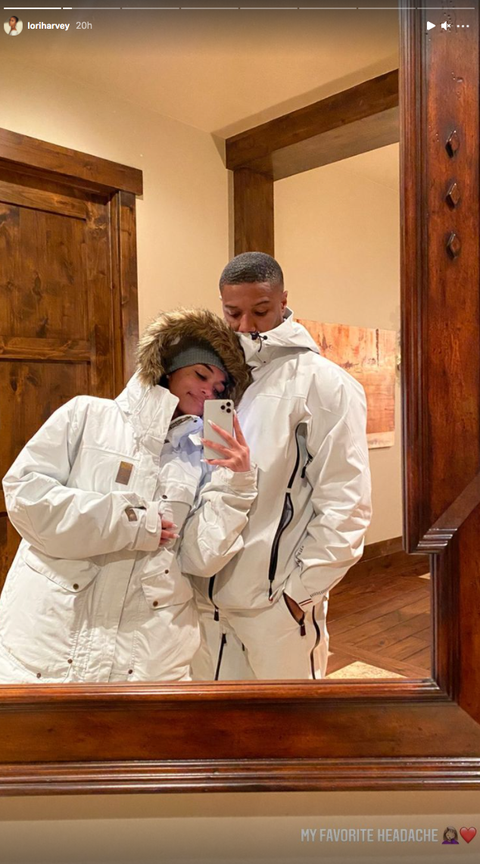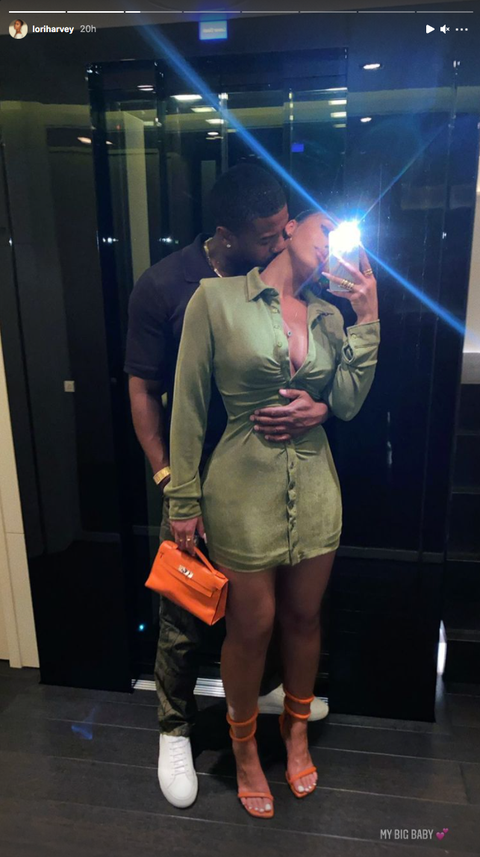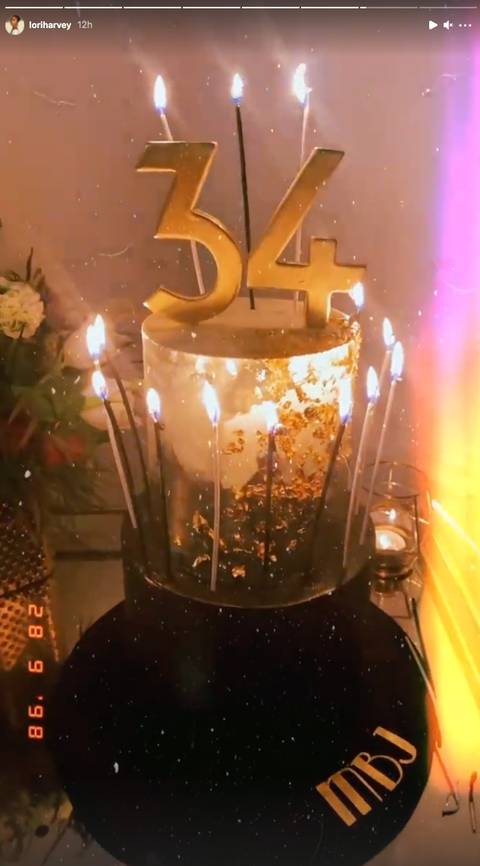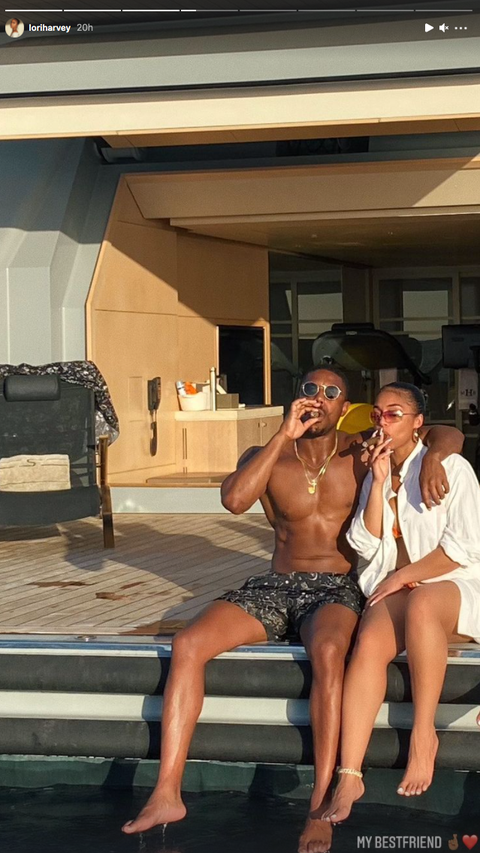 February 7, 2021
Michael gets a big gig starring in Amazon's 2021 Super Bowl ad, and Lori supports the hell out of her man! Michael plays our fave voice assistant Alexa and fulfills the commands of his new "owner," LOL.
"It took us a while, but we've found a new body for Alexa. Who knew Alexa had abs?" reads Amazon's video caption, to which Lori replies, "Sign me up for that Alexa. Congratulations baby!!!" along with fire, heart, and drooling emoji. And on actual Super Bowl Sunday when the commercial airs, Lori posts Michael in her Instagram Stories and gives him a second congrats.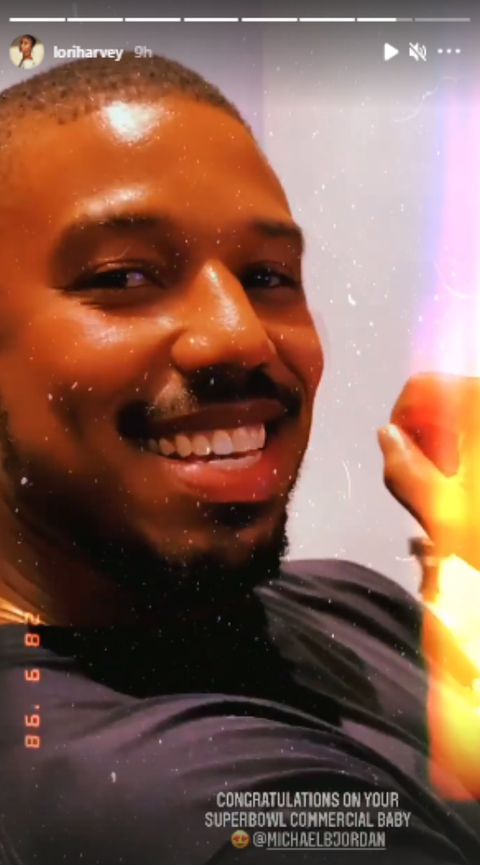 January 25, 2021
Michael and Lori continue breaking stay-at-home guidelines with a vacation in St. Barts (ugh, celebrities *sigh*).
Lori shows off her photography skills with a 🔥 snap of her boo and makes sure to write "mine" in the comments:
Lori also posts a suuuper-cute snap of her and Michael enjoying the sunshine outdoors. I am so, so, so…jealous:
January 19, 2021
Michael and Lori jet off to St. Barts for a couples vacation in celebration of her 24th birthday, and Lori casually posts a snap of bae grabbing her boob…because why TF not, right? "He love it here," she captions the picture.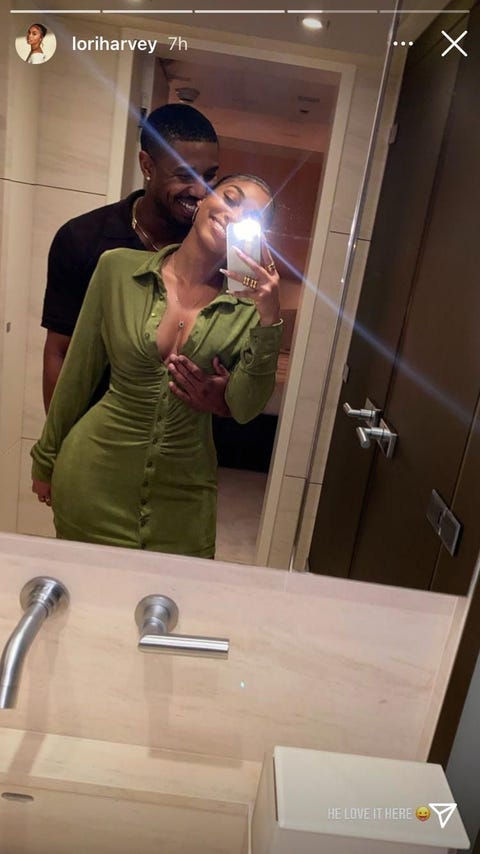 January 14, 2021
It's Lori's 24th birthday! 🎉 To celebrate her big day, she posts a few sultry snaps in true model-influencer fashion. Naturally, Michael comments and says, "Gimmie!! Sheeesh!! Happy Birthday Turtle!!" Nickname: unlocked!
https://www.instagram.com/p/CJ_vpNblpg3/?utm_source=ig_embed&utm_campaign=loading
A post shared by Lori Harvey (@loriharvey)
AND! Michael also posts a super-cute snap of him and Lori to his own feed to publicly wish her a happy 24th.
https://www.instagram.com/p/CKAoXItgY5r/?utm_source=ig_embed&utm_campaign=loading
A post shared by Michael B. Jordan (@michaelbjordan)
January 10, 2021
Michael and Lori turn everyone's world upside down after going Instagram official. *cries in single*
That brings us up to date! Be sure to check back here the next time Lori posts a lovey-dovey snap of her and Michael to her Instagram Stories.
You love all the nitty-gritty deets on celebrities. So do we! Let's overanalyze them together.
Source: Read Full Article